Static Shielding Bags
Static shielding bags with reclosable, press to close zippers and a tamper evident sealed top.
Our PAKSTAT100 bags are the highest quality, most economically priced static shielding bags available. Static shield bags are recommended when packaging static sensitive components.
Safely package your electronics in our 3.0 mil thick zippered pouches. The superior multi-layered material, PAKSTAT100, is designed to protect against static buildup and charges in and out of the bag. Read more about PAKSTAT100 here.
The static shield pouches are smoky gray and semi-transparent (40% light transparency) which allows for easy identification of the IC's and PCB's. We also carry high quality MIL-SPEC bags such as MIL PRF 81705 T1. See chart below.
Contact IMPAK for custom sizes.
Features:
Highest quality material. See PAKSTAT100 DATA SHEET.
Ideal for packaging of PCB's and IC's
40% light transparency and 3.0 mils thick
Extremely durable buried metal construction gives Faraday Cage performance needed to shield against static charges
Contains no amines or amides, is N-Octanoic acid free and is polycarbonate compatible
Custom 6-color printing and hot stamping are available
Custom sizes available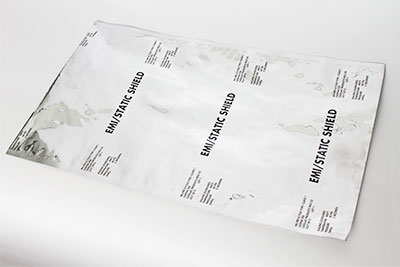 Size/Part Number
Qty/case
50 bags
1-2 cases
3+ cases
12" x 22"
81705BT1C11222ID
EMI/Static Shield Mylar Bag
150
Contact us for pricing
Description:

MIL-PRF-81705E TYPE 1 CLASS 1; Silver; 2 side seal with fold over bottom; 150/case
Don't see the size you need? We offer custom sizes.
Please contact a sales representative at sales@sorbentsystems.com