About IMPAK
Company
About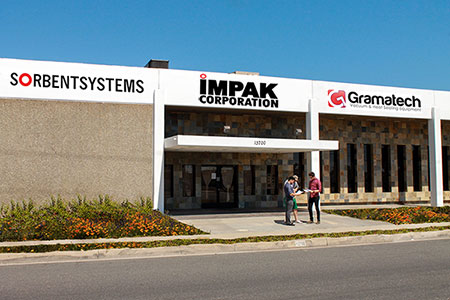 SORBENTSYSTEMS.COM is the online presence of IMPAK Corporation. We are located in Los Angeles, California.
For over 20 years, IMPAK Corporation has been providing innovative solutions for individuals and businesses with modified atmosphere packaging needs. With a full range of sorbent and flexible packaging products, including Mylar films and bags, standard and embossed poly vacuum bags, stand up bags, mini pouches, desiccants, oxygen absorbers, and thousands of sealer products and accessories, IMPAK is capable of addressing even the most complex packaging challenges. Other services include prototyping and custom product development, custom laminations, custom printing, adhesive labeling, product packaging, and machine assessment and repair.
IMPAK Corporation is a progressive company with a strong commitment to providing the highest quality services and products to our customers.
What is a Sorbent System?
A protective storage environment would ideally consist of a container with high moisture/oxygen barrier properties and a sorbent product, such as an oxygen absorber and/or desiccant. The bag and sorbent product together make up a sorbent system.
A sorbent system is suitable for a wide variety of applications, including:
Computer Equipment
Electronic Equiment
Sensitive Medical Products (such as Pregnancy and HIV tests)
Shipping Cargo
Sailing Vessels
Valuable Documents
Long Term Food Storage
Interested in Learning More?
---