What Are Oxygen Absorbers?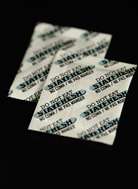 Designed primarily to prolong the shelf life of food, oxygen absorbers prevent the change of color in food products, stop oils in foods from becoming rancid, and prevent the growth of oxygen-using aerobic microorganisms such as fungi.
Oxygen supports the growth of microorganisms and causes changes in color and rancid odors in packaged foods. Plastic packaging is less able to exclude oxygen from packaged foods than are the older glass and metal containers. Oxygen absorbers absorb oxygen and effectively reduce the aerobic environment to 0% oxygen. Therefore aerobic bacteria and fungi are unable to grow in this environment. This will extend the shelf life of a food product drastically. The advantages of oxygen-absorbing sachets versus vacuum packaging are that the food products are not crushed or squeezed, as some products are of high value and are fragile, and its simplicity of use.
The type of packaging and the food bag /container seal are crucial for the effectiveness of the oxygen absorber. A minor packaging fault or leak can render the oxygen absorber useless and the contents inside the package will perish. Thus, a high barrier package (with a low oxygen transmission rate), such as our Mylar bags, and efficient seal techniques need to be employed.
Check out our Oxygen Absorber Fact Sheet
Do you understand the Dangers of Moisture & Oxidation?
Learn More
Part Number
Description
Bag
1 Case
2-4 Cases
5-9 Cases
10+ Cases
Bag P/N: SF20PK200
Case P/N:SF20CS6K

20cc

Oxygen Absorber.
20cc and 30cc are 'preferred' sizes for 2oz and 4oz beef jerky packages. 200/bag; 6,000/case
$13.50

$138.80

$123.90
$113.05
$108.30
Bag P/N: SF30PK200
Case P/N:SF30CS6K

30cc

Oxygen Absorber.
20cc and 30cc are 'preferred' sizes for 2oz and 4oz beef jerky packages. 200/bag; 6,000/case
$16.50

$156.80
$141.10
$129.50
$117.90
Bag P/N:SF50PK200
Case P/N: SF50CS5K

50cc

Oxygen Absorbers.
Good for containers of a quart size or smaller.
Perfect for 6"x6" mylar® bags.
200/bag; 5,000/case
$19.50

$131.50
$111.20
$99.50
$86.60
Bag P/N:SF100PK100
Case P/N: SF100CS2500

100cc

Oxygen Absorbers.
Suggest using 3 of these in a #10 can or equivalent size container. 100/bag; 2,500/case
$15.50

$154.80
$133.80
$102.00
$78.45

Bag P/N: SF200PK50
Case P/N: SF200CS1500

200cc

Oxygen absorbing packet.
50 packets per bag; 1,500 packets per case
$13.80

$143.60
$124.35
$106.00
$98.30
Bag P/N:
SF300PK50
Case P/N: SF300CS1500

300cc

Oxygen Absorbers.
Use one for a #10 can or equivalent size. You can also use a number of these in a larger container, depending on residual air volume. 50/bag; 1,500/case
$12.50

$128.00
$105.00
$98.30
$85.50
Bag P/N: SF500PK50
Case P/N: SF500CS1500

500cc

Oxygen Absorbers.
An appropriate size when using three per 5 gallon bucket. 50/bag; 1,500/case
$12.60

$169.80
$135.00
$127.50
$121.80
PMSF750B
SPECIAL!
Need Less? - Try our "Half Case" Special

Oxygen Absorbers -

500cc


Qty: 750

Free Shipping to the lower 48 states
Items will be shipped via USPS in large flat rate box.

*Valid 1 per order*

$123.45


Bag P/N: SF750PK25
Case P/N: SF750CS750

750cc

Oxygen Absorbers.
Suggest using 2 per 5 gallon bucket. 25/bag; 750/case
$13.50

$172.80
$158.35
$127.85
$109.65
Oxygen Absorbers - 750cc & MylarFoil Bags 16.0" x 18.0"
750ct 16.0" x 18.0" bags (P/N: 16VF4C18)
750ct

750cc

Oxygen Absorbers (P/N: 750SF750CS)
$342.40


Bag P/N: SF1KPK20
Case P/N: SF1KCS400

1000cc

Oxygen Absorbers.
Suggest: Use 2 of these in a 5 gallon bucket, depending on residual air volume. 20/bag; 400/case
$9.75

$106.40
$95.76
$90.45
$85.15

Bag P/N: SF15KCS500/bag
Case P/N: SF15KCS500

1500cc

Oxygen Absorbers.
Suggest: Use one of this size for a 5 or 6 gallon bucket. 25/bag; 500/case
$9.95

$153.90
$136.80
$119.70
$102.60
Bag P/N: SF2KPK10
Case P/N: SF2KCS240

2000cc

Oxygen Absorbers.
If you are storing food such as pasta, with a high residual air volume, you may want to use this size. Use one per 5 or 6 gallon bucket. 10/bag; 240/case
$10.20

$102.00
$95.50
$89.60
$85.90
Bag P/N: SF3KPK8
Case P/N: SF3KCS200

3000cc

Oxygen Absorbers.
Use one per 5 or 6 gallon bucket. 8/bag; 200/case
$12.40

$121.05
$98.60
$93.70
$88.74
What Do Oxygen Absorbers Do?
When used with proper packaging and sealing, the oxygen in the packaging is greatly reduced. Our absorbers bring the oxygen level down reliably to .01% or less
What Amount of Oxygen Absorber Should I Use?
| | | |
| --- | --- | --- |
| Bag Size | Oxygen Absorber for Fine Grains (sugar, flour, etc.) | Oxygen Absorber for Pasta and Thicker, Less Dense Foods |
| 6" x 6" | 20 CC | 50 CC |
| 8" x 8" | 50 CC | 100 CC |
| 10" x 14" | 100 CC | 200 CC |
| 10" x 16" | 150 CC | 300 CC |
| 16" x 18" | 500 CC | 1000 CC |
| 18" x 28" | 750 CC | 1500 CC |
| 20" x 24" | 750 CC | 1500 CC |
| 20" x 30" | 1000 CC | 2000 CC |
What Are The Benefits Of Using Them?
Extends shelf life
Prevents growth of aerobic pathogens and spoilage organisms, including molds
Eliminates the need for additives such as BHA, BHT, sulfur dioxide, sorbates, benzoates, etc
Use with gas flushing / vacuum packaging to absorb virtually all oxygen and absorb any oxygen that may permeate the package.
Benefits:
Significantly improves keeping qualities of polyunsaturated fats and oils
Helps retain fresh-roasted flavor of coffee and nuts
Prevents oxidation of spice oleoresins present in spices themselves and in seasoned foods
Prevents oxidation of vitamins A, C and E
Extends life of pharmaceuticals
Inhibits mold in natural cheeses and other fermented dairy products
Delays non-enzymatic browning of fruits and some vegetables
Inhibits oxidation and condensation of red pigment of most berries and sauces
Typical Applications:
Breads, cookies, cakes, pastries
Nuts and snacks
Candies and confectioneries
Coffee and tea
Whole fat dry foods
Processed, smoked and cured meats Cheeses and dairy products
Dried fruits and vegetable
Spices and seasonings
Flour and grain items
Fresh and precooked pasta and noodles
Pharmaceuticals and vitamins
Medical diagnostic kits and devices
Birdseed and pet food
Artwork preservation
Why Get Them From SorbentSystems?
Our absorbers meet the highest world food and pharmaceutical quality standards.
Price: Shop our prices and compare. We also offer substantial discounts on case and larger orders.
Availability: We are not back-ordered on our products, and are committed to meeting anticipated demands through the rest of the year.
Selection: We have all sizes for your storage needs.
Technical Support: We know you are serious about your storage. Our technical staff is here to assist you with your preservation packaging.
What Type Do I Need?
There are several different formulations depending on whether food is frozen, refrigerated or destined for long-term storage.
The absorbers on this site are all suitable for long-term storage
The most critical component for evaluation is the water activity level (AW). All dry grain, legumes, milk powder, pasta products and other dehydrated foods have very low water activity levels. Thus, they require absorbers which have rapid activation. These work within minutes of the package being opened. Learn More
How to use the Tell-Tab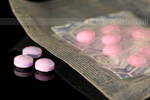 Oxygen Indicators Tablets ( Tell-Tab )
P/N
Description
Quantity

Price

2PK0IT
2 Tell-Tab Oxygen Indicating Tablets/
Foil Barrier Pouch
Each

Contact us for pricing and availability

10PK0IT
10 Tell-Tab Oxygen Indicating Tablets/
Clear Barrier Ziplok Bag
Each

Contact us for pricing and availability

25PK0IT
25 Tell-Tab Oxygen Indicating Tablets/
Clear Barrier Ziplok Bag
Each

Contact us for pricing and availability

50PK0IT
50 Tell-Tab Oxygen Indicating Tablets/
Clear Barrier Ziplok Bag
Each

Contact us for pricing and availability

100PK0IT
100 Tell-Tab Oxygen Indicating Tablets/
Clear Barrier Ziplok Bag
Each

Contact us for pricing and availability
Bag Clips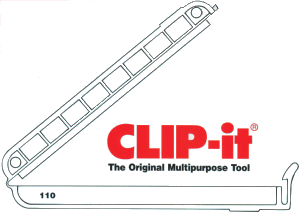 To view images and full description of our bag clips, please visit our Bagclip Page
| | |
| --- | --- |
| Part Number | BGCLP01 |
| Color | White |
| Sealing Length | 220 mm - 8.625" |
| Total Length | 260 mm - 10.25" |
| Weight | 52 g - 1.82 oz |
| Price | 1-4 Clips @ $5.95/ea | 5-19 Clips @ $4.55/ea | 20-199 @ $3.85/ea | 200+ @ $2.91/ea |
| | |
| --- | --- |
| Part Number | BGCLP32 |
| Color | White |
| Sealing Length | 320 mm - 12.5" |
| Total Length | 362 mm - 14.252" |
| Weight | 72 g - 2.52 oz |
| Price | 1-4 Clips @ $7.40/ea | 5-19 Clips @ $6.75/ea | 20-49 @ $6.20/ea | 50+ @ $5.85/ea |