Mylar® Bags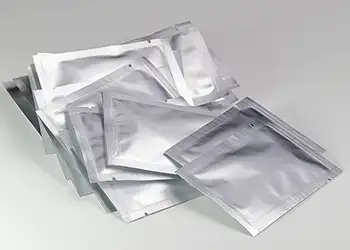 IMPAK produces Mylar® bags and films for a wide range of applications that require high barrier packaging to protect against the effects of oxygen, moisture, and light. Mylar® possesses many desirable properties including gas and moisture resistance, chemical stability, high tensile strength, and when laminated to aluminum foil, Mylar® provides a higher puncture resistance than any metallized polyester film. 75% of IMPAK's work orders are for custom sizes, printing, or materials. We have over 60 films available for custom package production ranging from 2.0mil to 7.5mil in thickness in many colors, and even transparent.

Please Note: all of our materials meet the requirements for direct food and pharmaceutical contact unless otherwise specified.

Custom Pouches: Many pouches are produced to customer specifications with a choice of sizes, colors, printed and unprinted. Custom Order Request
---
What is Mylar®?
Contrary to popular belief, Mylar® is clear, not silver. In its basic form, Mylar® is a clear material made from polyester resin. The silver effect comes from a lamination to foil or a metalized coating. In addition to its enhanced barrier properties, Mylar® properly converted acts as an electric insulator, making Mylar® bags ideal for packaging electronics.
Learn more about Mylar
---
Then what are Mylar® Balloons?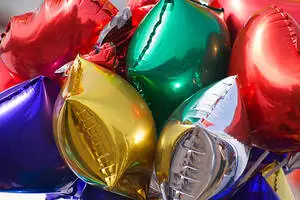 "Mylar®" balloons are actually made from metallized polyester, which is a very lightweight structure in which the aluminum is deposited by evaporation onto the surface of a polyester (Mylar®) film in a thickness measured in microns (to give you an idea how thick a micron is, 1 micron is equal to 1/1000th of a millimeter; a human hair is approximately 75 microns). To view the properties of Mylar®Foil, please refer to our Technology Page

A comparison can be drawn between our PAKVF4 material, which has a complete 0.00035" layer of aluminum foil, and a metallized structure like PAKVF2.5M. An aluminum foil layer acts like a flexible can, providing the best possible barrier properties. Our PAKVF4PC structure has a 0.0005" foil layer and the entire film is 6.0mil thick. It should be noted that most other flexible packaging companies sell laminated structures with only 0.000285" thick aluminum foil, which provides very little resistance to punctures and tears.
---
Mylar® Bags for Long Term Food Storage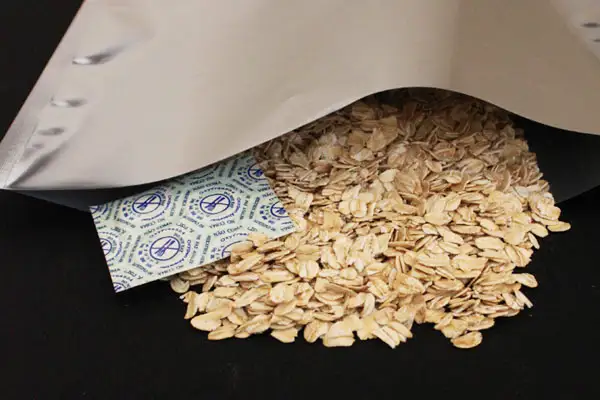 SorbentSystems provides all the materials to make your very own emergency food storage packaging, including Mylar® bags, oxygen absorbers, and heat sealers. If you are preparing for the possibility of a food shortage or disaster, IMPAK is proud to supply the materials necessary for long-term food and product storage. These are general suggestions and may not apply to all applications. If you have different applications or conditions applying to your food storage you may need a more "custom" food storage system. We are glad to answer any questions and help recommend the best storage system for your application. Learn more about Long Term Food Storage
---
How Do I Know If I Have The Right Type Of Mylar® bag For My Application?
This is an extremely good question. The raw material of bags we recommend for in-process ingredient or pharmaceutical product storage were originally designed for exporting packaged dehydrated food products. This bag is 4.5 mils thick and appears to look like aluminum foil, although the top layer is transparent. Long-term food/product storage bags and all high O2 or H2O barrier materials are NEVER transparent.

Another type of Mylar® foil with which many consumers are familiar is the "Mylar® foil balloon" that is often sold for birthdays and other occasions. The industrial name for the Mylar® foil balloon material is metallized polyester. This product is mostly cosmetic and has minimal oxygen barrier properties. We produce custom packages from this film - PAKVF2.5M. (Even PAKVF2.5M is 75% thicker than the balloon material!)

Any concerned individual should be very wary of an organization trying to promote "transparent" barrier bags or the shiny metallized polyester material as a barrier bag. IMPAK does produce these bags for certain uses. Long-term product storage should never be one of them and as a consumer you have the right to a fraud claim if you have received such information. Please review our product specifications.

One good example to watch for is the US Military MRE products. The packaging material used to produce the MRE's has a very high oxygen barrier. Often they will specify nylon as the outside layer of the material instead of polyester (Mylar®) due to its stronger puncture resistance and oxygen barrier properties. Most of all, you will never see a simple Mylar® (transparent) structure or shiny Mylar® foil (metallized polyester) structure used for an MRE.

It is imperative to have a good seal on any barrier pouch. We recommend using one of our heat sealers. We provide a range of units from small tabletop models to temperature controlled impulse units that can seal uncoated Tyvek and other specialty materials. Custom or "contour" seal designs are an option.

Our vacuum sealers range from a 7 lb. laboratory unit to 80" wide machines tailored to the demands of clean room silicon ingot manufacturing.
---
Interested in Learning More?
Custom Packaging
IMPAK produces custom printed pouches and packaging with an emphasis on materials with distinctive barrier properties to protect products from the adverse effects of moisture, oxygen, light and more. Learn about our unique custom capabilities.


How to Choose a High Barrier Bag
High barrier bags are used to preserve and protect products. When paired with an oxygen absorber or desiccant, products enjoy even greater shelf-life and stability. However, selecting the appropriate package is not always as straight forward as it seems.
Right Sealer for Your Setting
Not every Industrial Vacuum Sealer applies to every application. There are different models and types of Vacuum Sealers available, and each one of those sealers has different features that can affect the way a production line works.