Nylon Pouches
An example of single layer
material pouch fabrication.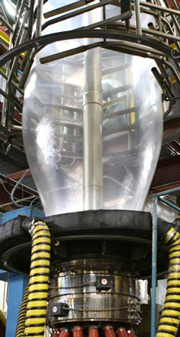 In order to respond to requests for packaging materials and specific bags or pouches that withstand high temperature, IMPAK Corporation has added the ability to extrude nylon tubing in a very clean environment to food grade U.S. FDA approved standards.
Subject to regular NFS (National Food Safety) audits, our blown film process utilizing an ultra dry nitrogen blanket ensures an exceptional level of quality and all pouches produced from the PAKPA1 film have been designed to withstand continuous use at 400° F (204.4° C.)
IMPORTANT NOTE: Nylon is an excellent gas, odor, and flavor contaminant barrier. However it is very important to understand that this single layer structure, extruded without a sealant layer requires specialized equipment to heat seal.
Applications Include:
Gas sampling/ transport bags
Food service hot meal pan liners
Produce & fruit shipping bags
Pollination bags
We have perforation capabilities: IMPAK Corporation can provide distinct perforation patterns from existing tooling to control the respiration rate of certain pre-made pouches. Ask your technical representative about specific hole patterns and capabilities.
Part
Number
Dimensions
Color/Style
1 Case
2 - 4 Cases
4 - 9 Cases
10 + Cases
Order
08NY115
1,000/case

8" x 11.5"

Clear
Nylon

$199.20
$179.30
$159.40
$139.60
NSL1824
250/case

18" x 24"

Clear
Nylon

$157.50
$137.50
$127.50
$115.50