The Hops Green Bag Line from IMPAK: Setting the Standard in Hops Packaging
HIGH BARRIER, COST EFFECTIVE SOLUTIONS THAT PROTECT YOUR INVESTMENT
FDA-Approved Food Grade, Aluminized Mylar Foil Bags for Hops Preservation
The Complete Package: High Barrier Bags, Oxygen Absorbers, Nitro-Flush Vacuum Sealers
IMPAK offers standard-setting high barrier bags created specifically for the hops industry, called the Hops Green Bag line for its focus on sustainability, and its forest green color. We also offer a full range of sealing equipment for hops packaging, as well as solutions to reseal and preserve partially used bags at the brewing stage.
How to Store Hops: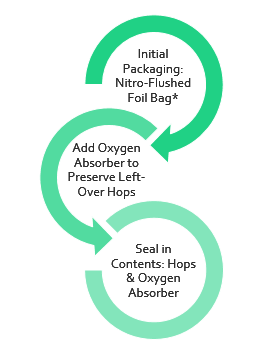 • Initial Packaging: Use a Nitro-Flushed High Barrier Foil Bag*
While this is the most popular method, we also have customers who use clear "boilable bags" and customers who use a standard vacuum over a nitrogen flush.
• Add an Oxygen Absorber to Preserve Leftover Hops
The Green Bags are resealable, and can be paired with our oxygen absorbers to control the atmosphere and prevent oxidation to maintain freshness.
• Seal in Contents:
IMPAK offers a wide range of sealers, with simple options to reseal opened bags, including bag clips and portable heat sealers.
Learn more about IMPAK's solutions for growers and brewers below.
Ready to place an order? Need help selecting the right sealer or oxygen absorber? Contact IMPAK:
Phone: (310) 715-6600, Email:sales@sorbentsystems.com
---
PART 1: HOPS GREEN BAGS
About IMPAK's Hops Green Bag Line: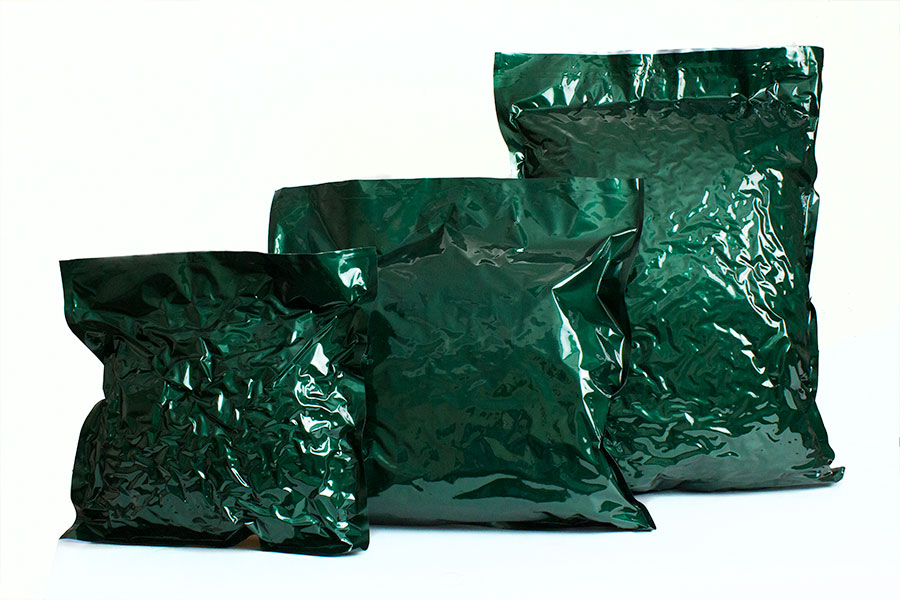 The sustainable, economic packaging option for growers and brewers.
These multi-layered bags are light-resistant, oxygen resistant, and have a special layer that will seal through oils and powders, which makes them ideal for hops packaging. They are produced in an FDA-approved, food grade material (PAKVF4C 5.0) in forest green, and are sized for 11lb., 22lb., and 44lb. pelletized hops (1lb., 5lb., and 10lb. fresh bale).* A multi-layered Mylar foil bag is your best bet for long term food storage and our hops bags may be vacuum sealed, nitrogen flushed, and reused. IMPAK also offers a wide range of oxygen absorbers and sealing equipment to complete your hops packing process. *Other packaging solutions include our standard MylarFoil bags, or Boilable Bags
*Weight varies by hops form, contact IMPAK for samples to test your product.
Features & Advantages
Nitro-flush ready
Vacuum-seal ready
Puncture resistant, food-grade material (PakVF4C - 5.0mil)
Superior barrier properties protect from light, oxygen, and moisture
3 standard sizes (see our Mylar bags page for more unique sizes)
Sustainable & space saving for reduced shipping costs
Reusable/ resealable: may be sealed again and paired with an oxygen absorber when contents are not used in one setting
Material seals through oil & powders, without jeopardizing the heat seal (i.e. ketchup packets)
Ready to pair with our sealers and oxygen absorbers
---
Why Does High Barrier Protection Matter?
Proper storage requires a controlled atmosphere. For over 20 years, IMPAK has provided customers with innovative packaging solutions, from flexible packaging products such as high barrier bags, to desiccants, oxygen absorbers, and sealing machinery. We know high barrier packaging and created the Hops Green line after noticing an increasing number of our vacuum bags / Mylar bags were being used to package hops. Select from 3 convenient sizes at a cost-effective price point.
Misconceptions About Preserving Hops
There is a lot of misinformation about food preservation and storing hops. Preserving hops comes down to the same principles as any other long term food storage: it's all about the barrier, and keeping oxygen and other contaminates out. Whether you're packaging for a few days, or a few months, a controlled environment is critical to preserving freshness and flavor.
Vacuum sealed Mylar bags are the preferred choice for professionals, while home growers may opt for clear vacuum seal bags similar to FoodSaver® bags. IMPAK offers both. In addition to our Hops Green Bags line, IMPAK offers a wide range of Mylar foil pouches in silver: see them here. We also offer clear vacuum bags see them here
IMPAK does not claim to be experts on packaging hops. We leave that to professionals like Mark Garetz, author of Using Hops. *Using Hops was published in 1994, which means Mr. Garetz has been working with hops for at least as long as IMPAK has been working with high barrier packaging.
"Vacuum packing and inert-gas packaging in an oxygen-barrier material are the best packaging methods. The common type of oxygen-barrier packaging is the "boiling bag" which is clear and made from a lamination of two types of plastic… The next step up in effectiveness is the aluminized mylar bag (also known as the foil bag or pouch), which adds a layer of aluminum that increases the barrier protection more than 10-fold." – Mark Garetz, Brewing Techniques
Solutions for Every Stage: Serving the hop industry, from farmers to brewers
Preserving the freshness of your crop is about more than the proper bag selection. Your next step is creating a controlled low oxygen environment. For the initial packaging stage, we recommend a vacuum seal with a nitrogen flush. Later, once the bag has been opened, we recommend a hand held sealer to close partially used bags. To reduce oxygen levels for greater freshness, without a vacuum sealer, we recommend an oxygen absorber packet. See our most popular hops packaging products below:
Bags: Select our Hops Green Bags below, or view our Mylar Bags or Boiling Bags pages for more sizes and Roll Stock Tubing.
11 lb. Pelletized Hops Bags, or 1 lb. Fresh Bale
22 lb. Pelletized Hops Bags, or 5 lb. Fresh Bale
44 lb. Pelletized Hops Bags, or 10 lb. Fresh Bale
Sealers: View our most popular sealers for hops packaging below, or visit our Retractable Vacuum Sealers for more. Nitrogen flush option available.
ZVAK 600 with 23.5" max seal length
ZVAK 800 with 31.5" max seal length
Oxygen Absorbers: Maintain flavor and freshness with our oxygen absorbers.
1000cc Oxygen Absorber, recommended size for 11 lb. Hops Bag
2000cc Oxygen Absorber, recommended size for 22 lb. Hops Bag
3000cc Oxygen Absorber, recommended size for 44 lb. Hops Bag
Sealing Options: Preserve your partially used bags with our portable sealers.
Bag Clips: Most versatile options for opening and closing multiple times.
Portable HotJaw™ Sealers: A secure option with the benefits of a heat seal, in a portable, handheld format.
IMPAK's HHI Series is made in the U.S. and comes with an extended warranty.
Ready to place an order? Need help selecting the right sealer or oxygen absorber? Contact IMPAK:
Phone: (310) 715-6600, Email:sales@sorbentsystems.com
More than any other atmospheric element, oxygen supports the growth of aerobic microorganisms such as fungi and mold. With the growth of these microorganisms, the integrity of a package is drastically compromised. In food products, discoloration takes place, rancidity and putrefaction set in, and the possibility of food poisoning is ever present. With historical documents, art and other artifacts, the presence of oxygen contributes to rapid deterioration, mildew, mold and a wide array of other contaminants. Oxygen Absorbers were designed to protect against such problems. When packaged properly (i.e., an appropriately sized oxygen absorber inside of a high oxygen barrier can or bag), the oxygen level in the surrounding atmosphere is effectively reduced to approximately 0.01%.
Benefits of Oxygen Absorbers
Helps retain fresh-roasted flavor of coffee and nuts
Prevents oxidation of spice oleoresins present in spices themselves and in seasoned foods
Prevents oxidation of vitamins A, C and E
Extends life of pharmaceuticals
Inhibits mold in natural cheeses and other fermented dairy products
Delays non-enzymatic browning of fruits and some vegetables
Inhibits oxidation and condensation of red pigment of most berries and sauces
Oxygen deprivation contributes to a pest-free environment in museums
Why Purchase Them From IMPAK?
· Quality: Every single production run is put through a series of tests to ensure the Oxygen Absorbers can successfully perform their job. Stock is routinely rotated to ensure that our Oxygen Absorbers are sold in a timely manner.
· Price: The ability to produce high volume production runs allows us to be flexible in our pricing. Substantially discounted pricing is available for larger orders.
· Availability & Selection: IMPAK maintains a regularly stocked supply of all sized Oxygen Absorbers. Whether you need a single pack of 100cc Oxygen Absorbers, or 50 full cases of 2000cc Oxygen Absorbers, we have them on hand. Interested in custom printed oxygen absorber packets? We can do that too.
· Technical Support: Realizing how important your product storage and preservation is, IMPAK has in-house technical staff to assist you.
Common Misconception About Oxygen Absorbers
Over the years, many documents and articles have been published about Oxygen Absorbers. Outside of the majority of scholarly articles and patents produced on actual Oxygen Absorber products, much of what has been published is unfortunately rife with misinformation and half-truths. The fact is, the vast majority of Oxygen Absorber distributors only have a rudimentary knowledge of the product. Sadly, these same individuals produce tons of "informative" pdf files, web pages, and articles on Oxygen Absorbers, which tend to rank high in the search engine results. While there are certainly many Oxygen Absorber fallacies circulating online, we will only cover the most glaring misinformation here.
1. "Oxygen absorbers are made of a chemical compound, the active ingredient of which is a powdered iron oxide…" (Taken from a "scholarly" article produced by Wholesale Group International
here
):
The truth is, "iron oxide" is NOT a component of an Oxygen Absorber. Iron Oxide is CREATED as the Oxygen Absorber does its job. The "active ingredient" of an Oxygen Absorber is simply iron. After the iron begins to rust, the combination of iron and oxygen create a new substance: iron oxide.
2. "…hand warmers are the same as oxygen absorbers." (From a forum post at prepperforums.net
here
):
While certainly no Oxygen Absorber distributor would tell you this, there are literally hundreds of videos, articles and forum posts online that make this claim. While hand warmers may indeed have an oxygen absorption effect, they also contain inedible substances such as vermiculite, which by itself is not necessarily harmful, but often contains impurities such as asbestos.
3. "Oxygen Absorbers are manufactured to different compositions to match the water activity of the foods they are intended for." (From the aforementioned article in Number 1
here
):
While it is certainly true that there are many different types of Oxygen Absorbers, made from many different chemical compounds and compositions, the ONLY difference between one Oxygen Absorber and the next in the food packaging industry is the size of the oxygen absorber. Many Oxygen Absorber distributors attempt to present themselves as manufacturers and "experts" in the field, with scientists and engineers on staff; they make silly claims that their Oxygen Absorbers are chemically engineered to address a variety of different water activity levels, but the truth is, the only thing that changes is the CC (cubic centimeter) absorption capacity of the Oxygen Absorber, and this is determined by the size, not chemical structure or composition of the Oxygen Absorber.