Retractable Sealer
These machines are very easy to use as a Vacuum/Gas-Flush Packaging unit. These units utilize a high grade Stainless Steel Body and heavy duty anodized aluminum frame making them perfect for Food, Medical and Clean Room Applications. Whether your product is an Electronics item, Medical device or a Food Product, this is a great model to handle your needs.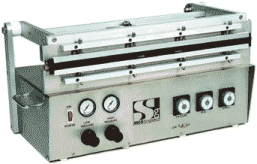 Specifications:
Model Number: GXVS-21TS
Max. Seal Length: 21"
Std. Seal Width: .25"
Electrical: 115 VAC
Vacuum Pressure: 25" Hg
Air Consumption: 7.8 cfm
> OPTIONS
*Single-Stage Gas Flush
*Longer Seal Lengths ( up to 61" )
*4 Nozzles
*Cleanroom Ready
*3/8" Wide Seal Bar
*Water Cooling
*220 Volt
Twin Retractable High-Vacuum Flow Rate Nozzles
Increased productivity:
Twin stainless steel nozzles make it possible to do two bags in a single cycle.
Virtually eliminates the need for an operator to manipulate the bag during the vacuum cycle.
Ease of loading, especially large bags and bulky products.
Improved performance:
Stainless steel more durable and easier to clean than plastic nozzles
Upper and Lower Heating Elements
Increased productivity:
Upper and lower heating elements allow for faster sealing.
Improved performance:
Better seal integrity, particularly on hard-t-seal materials such as Tyvek and heavy foils.
Touch Screen
We are now using the following touch screen for all of our GVS series of vacuum sealers.

Unisonic Model V130 PLC:
This unit features a Graphic White LED display (128 x 64dpi.)
A built-in keypad which allows for easier data logging and recipes.
With all-in-one integral programming for human data access and PLC ladder logic.
A 24vdc power supply provides for additional safety, expansion/upgrade ready, and remote access capabilities.

This unit packs all the features normally found on very expensive PLC's.
PLC Touch Screen Control
Touch Screen control:
Allows for accurate control of vacuum, gas purge, seal time & dwell settings.
Programmable:
You can program and store up to 63 recipes.
Venturi Vacuum Pump
Improved performance:
No moving or electrical parts make the venturi pump very quiet during the vacuum cycle.
Increased performance:
Impulse seal system allows both heating and cooling of material to take place under pressure for optimum results.
Handles products that give off abrasive residue or have a high moisture content.
Pneumatic Safety-System
Improved safety:
Prevents accidental operator injury by use of a back-pressure sensitive micro switch to prevent jaws from locking down in the event an unwanted object (i.e hand or finger) is present in the seal area.
High-Grade Stainless Steel Body, Heavy Duty Anodized Aluminum Frame
Increased productivity:
Ideal for food, medical and cleanroom applications.
Improved performance:
Stainless steel and anodized aluminum are easy and quick to clean.
Please Note:
This machine requires a separate compressed air source capable of prividing 80 psi of clean, dry compressed air to operate.
Net 30 Pricing is Available from the Company.
How to Choose the Best Vacuum Sealer
| | |
| --- | --- |
| P/N AC8002 - Stainless Steel Shelf for GVS2100-GVS3600 | |
| P/N GXVS-21TS -21" sealbar unit | |
| P/N SPK-2100R - Spare Parts Kit for GXVS-21TS | |
| P/N GVS2600R-PLC -26" sealbar unit | |
| P/N SPK-2600R - Spare Parts Kit for GVS2600R-PLC | |
| P/N GXVS-31TS -31" sealbar unit | |
| P/N SPK-3100R - Spare Parts Kit for GXVS-31TS | |
| P/N GXVS-36C -36" Custom Pak Retractable Nozzle Vacuum Sealer | |
| P/N SPK-3600R - Spare Parts Kit for GXVS-36C | |
Need a Nitrogen Gas option?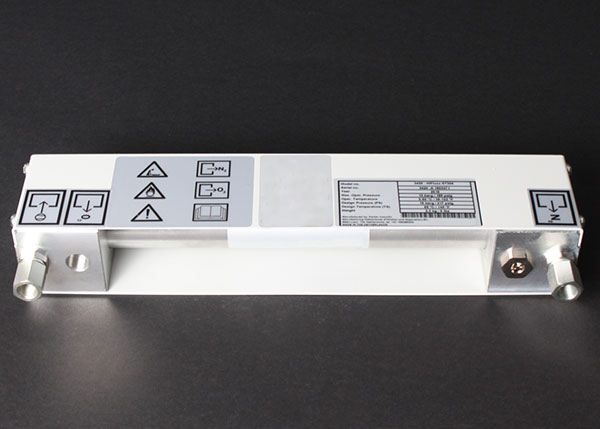 The Nitrogen Gas Generator (NGG) produces Nitrogen gas (N2) from compressed air. *This module is designed to generate Nitrogen at purities between 95% and 99.5%.
Our (NGG) can be used as a replacement for heavy and bulky Nitrogen gas tanks. Its slick and compact design allows users to integrate this with their current gas flush enabled vacuum sealers without having to worry about it taking up too much space. Also, users will not have to worry about a depleting Nitrogen gas source, as our NGG produces Nitrogen from a clean compressed air source.
Part Number: RM11042
Size: 15.5" x 2.5" x 4.25"
Weight: 5.1 lbs.
Price: $3,200.00
See an example of an upgraded 61" GXVS unit below. The touch pad interface and new controls offer pinpoint accuracy with readings every millisecond. Speak with our specialists about what a custom machine could do for your production goals.