PneuVak Vacuum Sealers (ZVAK 2.0)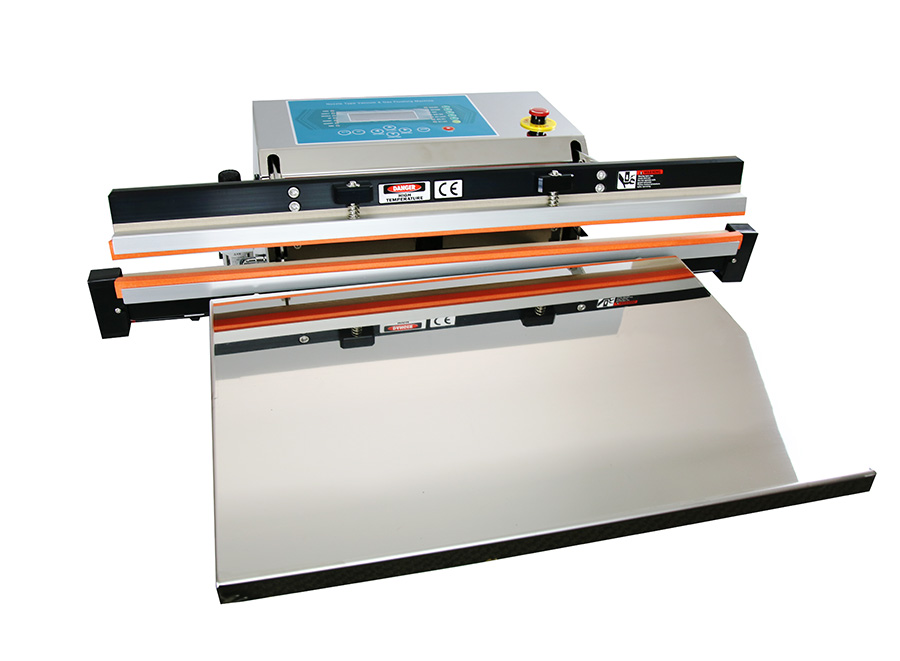 PneuVak Sealers (PVS Series) -
Industrial Impulse Vacuum Sealers with Gas Option
Accelerated air-flow rate, gas flush option, precise seal settings, stored recipes, enhanced safety features and convenient step-operation.
Features
Compact size / small footprint
Strong airflow rate (7CFM)
Gas flush function
Stainless steel body & quality plating
Emergency-stop button
Requirements
Power Source (110V or 220V)
Compressed Air Source
Small Footprint:
PVS 600: 27" x 11" x 12"
PVS 800: 34" x 11" x 14"
PVS 920: 39" x 11" x 14"

These units are CE compliant, with documentation available.
---
Pictured left to right: PVS600SG, PVS800SG, PVS920SG
Small Footprint & Easy Set-Up
The PneuVak sealers are pneumatic vacuum sealers capable of handling a wide range of materials, with added controls for gas flush and safety features such as an emergency stop. These vacuum sealers have a small foot print (as small as 27" x 11" x 12") and require only a power source and air source.
Touchpad Operation & Stored Recipes
The easily programmable touch pad control allows operators to program separate vacuum and gas flush settings (up to 3 gas flushes). Once the ideal settings are determined they may be saved as recipes in the machine. Production is hassle free. Operators can simply select the desired recipe and begin sealing.
Enhanced Vacuum & Better Control
The PneuVak series features a robust vacuum with an air flow rate of 7CFM (198L/min) which minimizes vacuum time to increase production speed. Although the airflow rate is greater than other machines of its kind, the PneuVak machines still have precise control over the level of vacuum. At any point during the cycle the operator may override the vacuum process and start the seal cycle. This means that delicate items may safely be vacuumed without being crushed.
Emergency Stop Button
As an added safety measure, the PVS Series sealers feature an emergency stop button located on the top of the machine. Operators can end operation at any point using this button.
Durable & Clean Room Ready
The stainless steel body of the PneuVak machines makes them easy to clean and ideal for clean room settings and food packaging. *Should you need a validatable sealer for clean room settings, please refer to our iS2 Series.
Optional Enhancements
Dual Heating Elements: The PVS heat sealers come stock with a single heat element which is suitable for most materials, however for materials which require even heating from both sides, we offer an option for dual heating elements. Simply select the "dual heating element" option at check out; available on all 3 sizes.
Stainless Steel Tray: An optional working tray provides added convenience in the seal process. The tray snaps into place easily and can be added and removed within seconds.
Spare Parts Kit: Be prepared with a spare parts kit on hand for convenient part changes. The kit is available at checkout and includes: replacement Teflon® covers, nichrome heating elements, replacement fuses, hex keys, stainless steel wrench, flat screwdriver.
220V Power: Available at checkout on all 3 sizes of the PneuVak machines.
---
---
---
---
Spare Parts Kit
PVS Series Spare Parts Kits Includes:
2 - Replacement Teflon Covers
1 - Nichrome Heating Element
2 - Replacement Fuses
2 - Hex Keys
1 - Stainless Steel Wrench
1 - Flat Screwdriver
PVS450SHG Spare Parts Kit
Part Number: SPK-PVS450SG
$142.00
---
PVS600SG Spare Parts Kit
Part Number: SPK-PVS600SG
$168.00
---
PVS800SG Spare Parts Kit
Part Number: SPK-PVS800SG
$218.00
---
PVS920SG Spare Parts Kit
Part Number: SPK-PVS920SG
$229.00
---
PVS Series Stainless Steel Work Shelf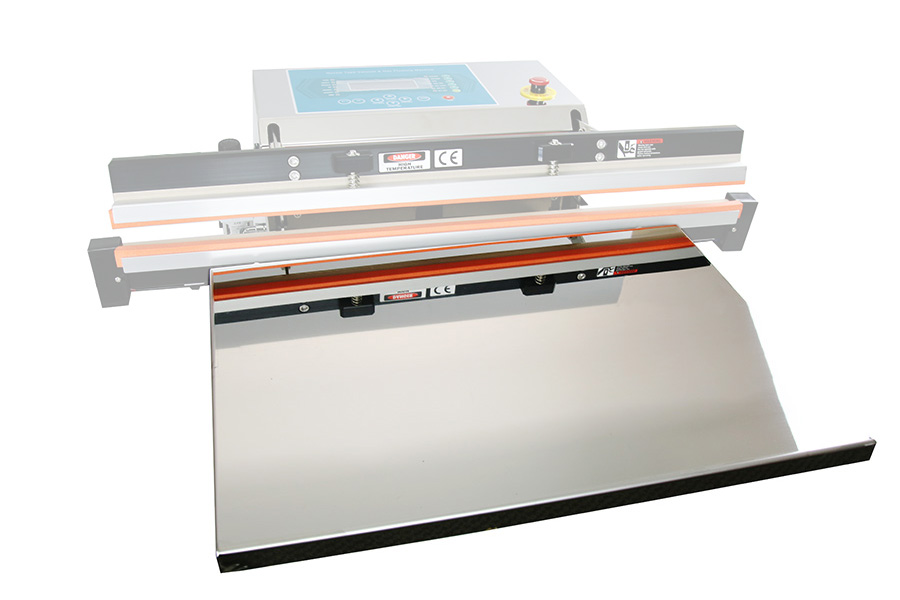 PVS600SG Stainless Steel Work Shelf
$82.40
---
PVS800SG Stainless Steel Work Shelf
$87.90
---
PVS920SG Stainless Steel Work Shelf
$172.50
---
PVS Series Replacement Vacuum Nozzle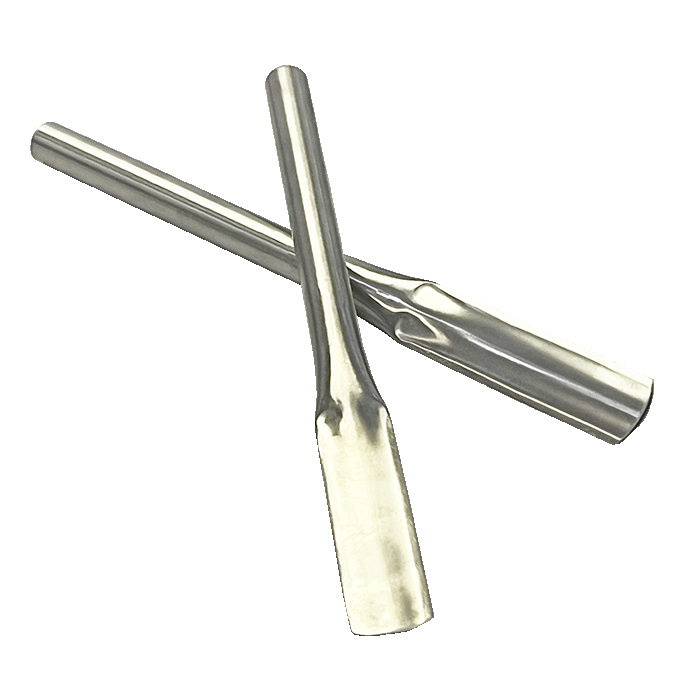 NZZL77/8 Replacement Nozzle for PVS and EVS Vacuum Sealers
$97.80
---
Stainless Steel Stand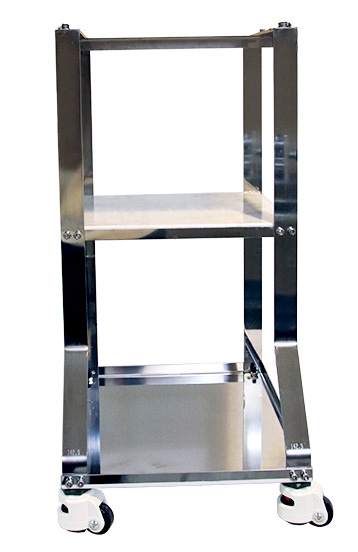 Stainless Steel stand for PVS450SHG/PVS600SG
$550.00
---
EVS Stand Building Tutorial: A Step by Step Guide
---
How is the Pneu-Vak Different from Other Nozzle Vacuum Sealers?
PneuVak vs. zVak
We often refer to the PneuVak machines as the "zVak 2.0" because they are a similar but enhanced version of the zVak. The PneuVak has a few improvements on its predecessor the zVak series, including increased air flow rate which accelerates the vacuum seal and speeds production, as well as an emergency stop button that allows operators to cancel operation at any moment.
PneuVak Air Flow Rate = 7CFM (198L/min)
zVak Air Flow Rate = 5.5CFM (155L/min)
It is important to note that although the air flow rate is greater on the PneuVak machines, the operator will still have the control to protect delicate products by sealing at any point during the vacuum cycle.
Standard features you can expect from both machines are the option for gas flush, stored recipes, stainless steel body, and a retractable vacuum nozzle.
IMPAK still sells and services the zVak series, and we highly recommend them. The PneuVak series has simply been added an enhanced version for those who prefer a faster vacuum and added emergency stop button. Contact us for a recommendation based on your application.
PneuVak vs. Other Vacuum Sealers
Other sealers on the market have the same basic features as the PneuVak Series sealers: single heat jaw, retractable nozzle, gas flush capabilities, and convenient table top format with small foot print, but the level of control offered by the PneuVak Series sets it apart, as does the high air flow rate. Digital controls allow the operator to set independent seal, vacuum and cool times and up to 3 gas flushes are available in one recipe. Other vacuum sealers on the market rarely perform at the same accelerated vacuum rate of the PVS Series, and do so with the same level of precision; operators can interrupt the vacuum cycle at any point to engage the seal cycle.
Nozzle Vacuum Sealers vs. Chamber Sealers
The PneuVak Series and zVak Series sealers are some of the most advanced tabletop vacuum sealers in their class, but in certain applications a chamber style sealer is more suitable. Nozzle style vacuum sealers such as the PneuVak require a compressed air source and seal one bag at a time. Chamber sealers are a box-style sealer capable of sealing multiple bags (space permitting) and lowering oxygen levels to and incredibly low 0.02%. Our specialists can review your application in detail to offer a recommendation based on your needs.
Advantages of a Nozzle Type Vacuum Sealer:
Air is drawn directly from inside of the package for more efficient packaging
Package size is not restricted by the size of the chamber
Greater control of vacuum; can stop and seal at any point in cycle
Offers flexibility with option for full or partial gas flush
Suitable for packaging grains or liquid with vertical-type & angle control models
Ideal for packages susceptible to external shock which the chamber-type sealers employ
Advantages of a Chamber Sealer:
Greater vacuum percentage (lower oxygen) as compared to a nozzle type sealer
A larger seal bar (or more than one) will allow the operator to vacuum and seal multiple pouches at the same time resulting in greater productivity
Little to no operator involvement after the lid has been closed and the cycle has started
Options for percentage vacuum allow for partial vacuum (ideal for making an object immobile)
The compressor is built-in so all you need is an electrical outlet
---
Technical Specifications
PVS Series
Model
PVS Series
Body
Stainless Steel
Sealing Length
23.6", 31.5", 36.2"
Sealing Width
5mm (0.2")
Airflow Rate
7CFM (198 L/min)
Clean Room Compatible
Yes
Adjustable Time
Yes
Programmable
Yes
Saves Recipes
Yes
Optional Dual Element
Yes
Power
110V, 50/60Hz, Output: DC 24V (220V available)
Shipping Weight
103 lbs., 111 lbs., 144 lbs.
High Flow Rate Vacuum Nozzle:The retractable stainless-steel nozzle is more durable and easier to clean than plastic nozzles and boasts a very high vacuum rate of 7 CFM.
Single (or Dual) Heating Element: The standard single heating element handles most material types, and an optional second* heating element handles thicker materials. *Fees apply
Easy-to-Use Control Panel: Touch pad digital interface allows for accurate control of vacuum, gas purge, seal time and cool down settings. Program and store up to 5 recipes. Independently control vacuum, gas flush and cool times. Set up to 3 flush cycles.
Emergency-Stop Button: Added safety feature: Emergency shut-off button allows operator to quickly stop all functions.
High-Grade Stainless Steel Body, Heavy Duty Anodized Aluminum Frame: Stainless steel and anodized aluminum are easy and quick to clean. Ideal for food, medical and clean room applications.
Interested in learning more?