IMPAK is your one-stop shop for all your jerky packaging needs. Whether you have an established brand of beef jerky and want to improve your production capabilities or you're making vegan jerky from home and want to keep it edible as long as possible, we can help. One reason for the enduring popularity of jerky products is their long shelf life. Those who know jerky know that drying the meat is only part of that process. If you plan to sell jerky, you need just the right combination of specialized packaging; without it, you could be looking at a food safety nightmare!
Jerky was created as a means to keep fresh meat edible for several days. This traditionally involved cooking, salting, and drying the meat. But these methods only prevent spoilage for less than a week. With the proper methods and equipment, jerky can now be kept edible for several weeks or even months. If you make jerky, you likely have favorite recipes and techniques to get the flavor you want. But unless you plan on eating your jerky within a week or two, you need proper packaging to extend its shelf life. To keep jerky edible for longer periods, you must package it in a virtually oxygen-free environment. This can be accomplished with oxygen absorbers or vacuum sealing with high-barrier packaging materials.
1.
High-barrier flexible packaging
that prevents air and moisture from getting to your product - available with windows, reclosable zip-seals, and tear notches so you and others can easily see and enjoy your jerky
2. An
oxygen-free environment
, achieved either with oxygen absorbers or vacuum sealing, to keep your product free from bacteria, preserving the look and flavor you have worked hard to perfect
3.
Sealing equipment
that will ensure your barrier bags are consistently and reliably sealed tight for maximum protection and freshness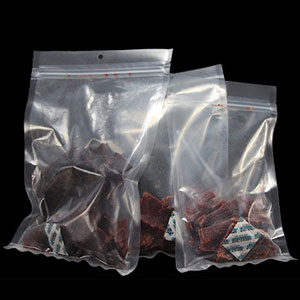 Jerky in Mylar™ bags with O2 absorbers
We've got what you need
Maybe you're making jerky just for yourself and you can't eat it fast enough, maybe you're just starting out selling your homemade jerky and need reliable packaging, or maybe you are part of a company that ships jerky all over the world and you're looking to speed up operations. IMPAK has a wide variety of products to meet any of your needs. Whether you prefer traditional pouches or vacuum sealing, check out the categories below to see all the options we can provide to keep things fresh and tasty.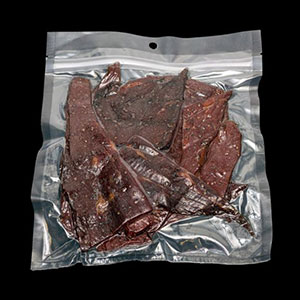 Jerky in a vacuum-sealed pouch
Heat Sealed Pouches
We recommend the follwing products for this commonly-used style of packaging.
Vacuum Sealing
Keep oxygen out of your packages from the start with this increasingly popular method.
Many of our pouches are ready for you to quickly apply a pre-printed label, but if you would like to explore custom printing for your jerky pouches, we can help you make that happen.