Custom Heat Sealers
Custom US-Made Heat Sealing Equipment
IMPAK specializes in designing and manufacturing custom sealing machinery and has built a reputation for our ability to solve complex sealing challenges. Our heat sealing equipment can be built to specifications that meet military and medical requirements for validation, clean room certification, explosion-proof safety standards, NIST certification, and more.
At our California facility, we design and manufacture custom sealing equipment to meet the unique needs of our customers. Often times, introducing brand new features based on a customer request. In addition to new machinery, in many cases we can even retrofit our customers' existing equipment from other manufacturers.
If you have a unique challenge that other manufacturers cannot or will not provide a solution for, it is time to speak with our specialists.
Review a PDF copy of our Modified Gramatech Custompak
Why Choose Custom Equipment
Many times our customers have tried using existing stock equipment from IMPAK or other reputable machine manufacturers, but find that some specific need would be better handled by a machine modification or completely custom unit. In many cases this can seem cost-prohibitive, but IMPAK has offered many innovative solutions that were a fraction of the cost of unnecessarily complex systems. Bring us your challenge and let our team offer a solution.
Custom machines from IMPAK can come with a wide range of advanced features. These include everything from digital controllers that provide much greater control, specialty cut-wires, modifications for calibration and validation, and even graphs of time/temperature measured to the millisecond with option to export to USB drive for excellent record keeping. If your machine can't deliver accurate readings of time, temperature and pressure, every time, an upgrade could help your bottom line.
Review a PDF copy of our Equipment Purchase Guide
Custom Features & Advantages
Greater Convenience & Control with Digital Controllers
Touch Pad and Touch Screens Available
Precise Readings of Time, Temp and Pressure (± 3 degree accuracy)
Repeatable, Validatable Results (Graph Temp/Time to the Millisecond)
Cost Savings / Waste Reduction
Save Multiple Recipes for Sealing Profiles (Switch Between Materials)
Environment Compatibility: Clean-Room, HazLoc (Explosion-Proof), etc.
Add New Custom Capabilities: We Solve Highly Unique Challenges
High Temperature Package giving the ability to have seal temperatures of 600ºF with Kepton and special thermocouples (Additional cost starting at $1275.00)

The Intelligent Sealing System(iS2)
The iS2 (Intelligent Sealing System) is a control system for heat sealing equipment that offers pin-point digital control over time, temperature, and pressure, via touch screen interface. Most custom units from IMPAK will utilize this proprietary platform.
The system is more than a digital control upgrade, it combines an advanced Siemens PLC and HMI with proprietary pneumatic and electrical components, to deliver temperature control within one degree, accurate sealing time with readings every millisecond. Additional conveniences such as recipe storage, operator locks, and graphs of time/temperature put iS2 enabled sealers in a class of their own.
The iS2 is customizable; IMPAK's machinery specialists evaluate the needs of each customer to create a list of software features and components specific to their individual project. Learn More
Repair & Retrofit Services
We repair and retrofit sealers of any brand: Aline, AccuSeal, Vertrod and more.
IMPAK can retrofit your existing equipment with the latest technology with our advanced sealing platform which we run on SIEMENS HMIs.
Whether your machine was made by Aline, Accuseal, Vertrod or another brand, we can modify it to meet your packaging needs. From minor enhancements to retrofitting machines with new controllers, IMPAK is your source for custom sealing equipment. Consult with our team to find the most appropriate solution for your specific challenge.
Where other machine manufacturers push the sale of their own brand, at IMPAK we recognize that in certain cases, retrofitting a tried-and-true machine to bring it to modern standards may be the best avenue for companies, and our technicians have the expertise to handle such challenges.
Please note, in many cases a new, custom unit will be what IMPAK will advise, however, as a company we are open to retrofit services and will work with your needs and budget.
info CSA Certification Announcement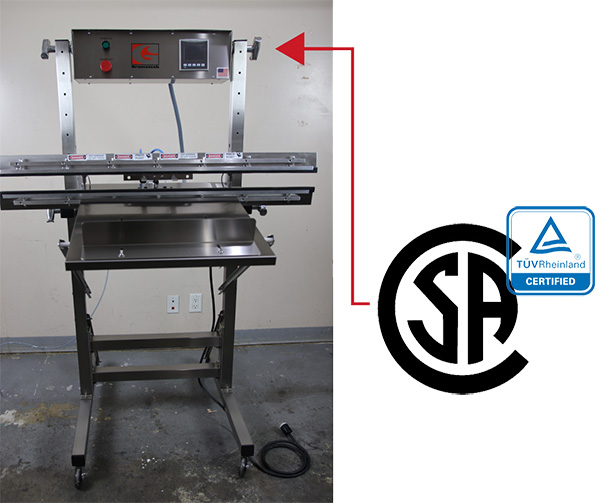 IMPAK is proud to partner with a major Multi-National Pharmaceutical Company and to have been granted a CSA Certification for its industry leading line of Gramatech Vacuum Heat Sealers. "We are now ready to offer CSA registration as an option to our industry leading line of Gramatech Sealers," according to Rajib Hasan, Managing Director, Machine Group.
As the company General Manager and current CEO, Kevin Cullen, has said, "We are very proud of the machinery we have built to CSA standards." The story below written by Alan Masnek, our resident Certified Packaging Professional (CPPL) and graduate of University of Wisconsin – Stout, illustrates the steps that were taken to design, develop and produce a piece of equipment for pharma MNC. This particular MNC is just one of the many top medical manufacturing firms we are proud to have produced product for... [see full article]
info Advancing Vacuum Sealing Technology to ship seafood UNFROZEN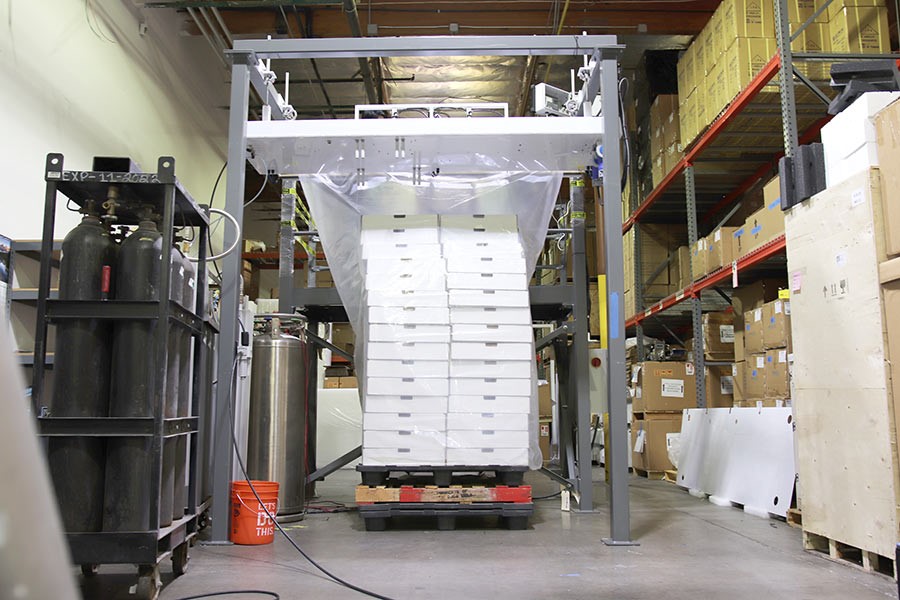 In 2017 IMPAK was contacted by a firm with a challenge; to devise a system to transport fresh fish and other proteins virtually anywhere in the world without the need for being frozen. Their concept required a large, 100-inch seal length, heat sealer with vacuum AND gas flush to suspend time and force out destructive gases. Not only does this save on expensive airfreight, it also eliminates environmentally harmful Expanded Polystyrene (EPS) packaging.
The customer has a heat sealing machine that was produced by Aline Corporation (www.alinesys.com). Although Aline went bankrupt in 2012, IMPAK Corporation's Machinery Group is committed to supporting and manufacturing all of the sealing units that were previously produced by Aline. Our client is requesting several additional sealers to facilitate their expansion in Scandinavia and South America... [see full article]
---
Ready to start evaluating custom equipment? Contact IMPAK
Interested in Learning More?