Why is the Retort Pouch Revolutionary?
Many consumers may not be aware that the product within a retort pouch is cooked right in the sealed pouch. This revolutionary packaging process is called retorting and is the same process as autoclaving, which is the ability to heat and sterilize the packaging and contents. Both these heating and sterilization methods are used in the food and non-food manufacturing industry to commercially sterilize instruments or packaging and components, or cook product after it has been placed into its package. The retort pouch is filled with the product to be heated, is then hermetically sealed (airtight), and processed according to industry guidelines for time and temperature. Usually, this is a minimum of 50 minutes at 250°F
The construction of layering various types of plastics and thin metal foils takes the place of traditional cylindrical metal cans or glass jars, and the flexible retort pouches are then processed in a heated pressure vessel.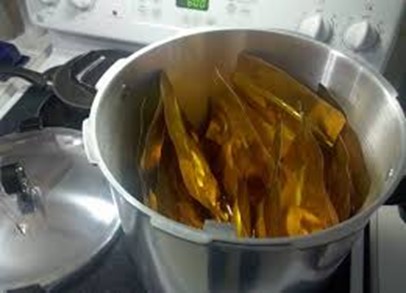 Retort food canning removes all the air from the container. Commercially, this is done by filling a large chamber with steam and then cooling the steam, creating a vacuum. Chamber vacuum sealers are an alternate way of creating the vacuum, though they do not heat the contents. The commercial version of the retort process also cooks the food in the pouches at the same time; home process will see the food cooked in a pressure cooker instead, much as if you were doing regular canning, except with the vacuumed pouch instead of a mason jar. Read more for regulatory and safety information on acidified foods and low-acid hermetically sealed foods.