Benefits of Mylar Drum Liners
Eliminate waste and extend product shelf life, while protecting contents and keeping drums clean. Learn more about how Mylar drum inserts can help ensure product integrity, while making processing and clean-up more convenient;
• Keep drum clean / prevent contamination from drum
• Prevent unwanted contamination
• Protect environmentally sensitive products
• Increase product shelf-life
• Provide waterproof protection
• Block oxygen, light and scent
• Add protection for shipping
• Optimize filling/handling/transitioning products
• Make drums food-safe
Features of Drum Liners from IMPAK
IMPAK's round bottom drum liners differ from other manufacturers' products because they have a much better barrier against light, oxygen and other environmental corrosives. The Mylar foil turns any drum into an air-tight storage container, but even when compared with other Mylar foil drum liner, IMPAK's proprietary white, food safe laminate and thicker 5 mil construction stands out.
• BPA-Free and meets FDA specifications for food safety
• Open head; Close via heat seal or bag clip
• Flat round bottom conforms to drum shape and reduces product waste
• Full 5 mils thick for added barrier protection and puncture resistance
• Heat sealable for better protection
• Readily available in standard sizes or by custom order
Types of Drum Liners
5 Mil Thick Mylar Drum / Pail Liners from IMPAK come in two sizes which are ideal for 5 and 55 gallon drums. For 1 gallon drums, 30 gallon drums, or any other size drum, contact us for a custom order. We offer surprisingly low minimum order quantities and can provide a range of custom materials.
5 Gallon Drum Liners
These Mylar bags for 5 gallon buckets are a food storage favorite, and easily convert any 5 gallon bucket into a food-safe container for long term storage. Other applications range from ingredient processing to paints and liquid storage. Purchase Below
55 Gallon Drum Liners
55 gallon protective liners help increase processing efficiency with bulk products, and like all of IMPAK's heavy duty Mylar bags, they offer enhanced barrier protection and excellent tensile strength to resist punctures and tears. Purchase Below
Custom Drum Liners
IMPAK not only offers 2 standard sizes in our recommended proprietary film, we can also custom produce form fit round bottom drum liners in a wide variety of sizes and materials.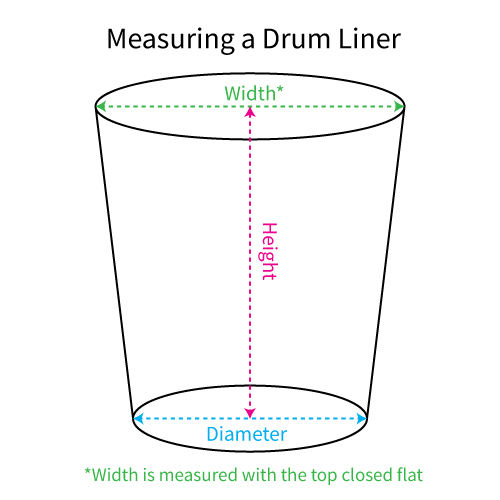 Custom size diameters include, but are not limited to:
| | |
| --- | --- |
| • 4.7 inches (119.4mm) | • 13.8 inches (350.5mm) |
| • 5.5 inches (139.7mm) | • 18.9 inches (480.0mm) |
| • 11.0 inches (279.4mm) | • 22.4 inches (568.9mm) |
| • 11.4 inches (289.5mm) | • 22.8 inches (579.1mm) |
| • 12.2 inches (309.9mm) | • 23.3 inches (591.8mm) |
| • 12.6 inches (320.0mm) | • 23.6 inches (599.4mm) |
Extending Shelf-Life with Oxygen Absorbers
The Mylar foil used in our heavy duty drum liners is sufficient for preserving most products, however to extend the product shelf life to years or even decades, we recommend oxygen absorbers. This sealed bag with oxygen absorber is what we call a "sorbent system" and is the core of IMPAK's business.
If you are purchasing one of our round bottom drum liners for a hygroscopic or oxygen sensitive product you may wish to consult a technical representative at the company to determine the residual air volume and how to ensure long term efficacy of your product, especially pharmaceutical grade powders, food supplements and other products that are typically hygroscopic.
Speak with our specialists for more detailed guidance on oxygen absorber sizes, or see our rough recommendations below.
Recommended Oxygen Absorber for 5 Gallon Drum Liner
As a stand-alone bag, we recommend using a 1500 cc Oxygen Absorber for loosely packed items, such as pasta and a 750 cc Oxygen Absorber for more dense items, such as flour or sugar. As a 5 gallon pail liner, we recommend 750 cc for loosely packed items and 500 cc for more densely packed items.
Recommended Oxygen Absorber for 55 Gallon Drum Liner
IMPAK would typically recommend an alternative solution to oxygen absorbers for bags as with a capacity of 55 gallons, but they are not out of the question for certain applications. The alternative we would suggest would likely be a gas-purge or vacuum seal, depending on the product being packaged.
Applications / Uses for Drum Liners
• Resins & Compounds
• Pharmaceuticals
• Excipients & Active Ingredients
• Dry Food Products / Ingredients
• Moisture Sensitive Powders
• Ink, Paints, Coatings and Other Liquids
• Cosmetic Products / Materials
• Bulk Foods for Long Term Food Storage

• Grains
• Cereals
• Beans
• Rice Flour
• Spices
• Nuts & Seeds
• Coffee & Tea
info Hot-Fill Ready Drum Liners: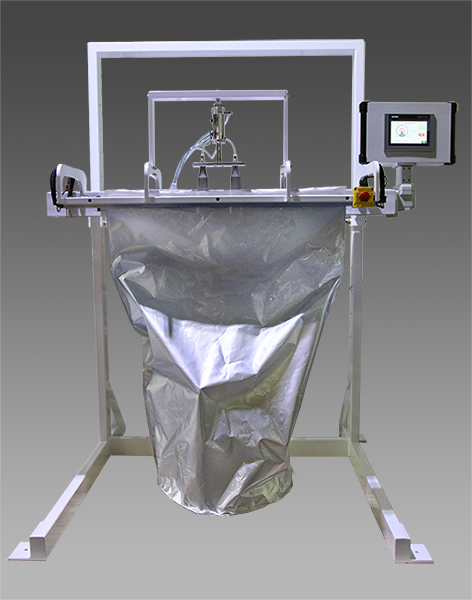 Example of a round bottom drum liner being tested on our Heavy Duty Sealers.

Note: in actual fill processes, the bag would be inserted into the drum prior to the fill and seal stages.
The majority of IMPAK's drum liners are produced with a structure that can handle hot-fill and autoclave sterilization processes. This was a deciding factor for a multinational urethane producer looking to eliminate downtime for product cooling:
"Our product is produced at temps in excess of 250° F and can still be over 230° F when it hits the drum liner. It is critical to us that the integrity and purity of our product remain completely intact and unaffected by the innermost layer of the drum liner. IMPAK's materials technology and understanding of our application ensured the success of this product." –Michael N., Midwest Multinational Chemical Producer
How to Seal Drum Liners
Choosing between heat seal, bag clip or drum lid
Heat Sealers
The recommended method for sealing Mylar drum liners would be a heat sealer. IMPAK offers a wide range, from hand held units with 6" seal bars, to heavy duty vertical sealers which a 55 gallon drum can be positioned under. [See All Heat Sealers]
Bag Clips
When used properly, bag clips can offer an air-tight seal. They are easy to use and reposition, and they are extremely cost effective. Size is the biggest challenge with bag clips as they are not as wide as the bag and require corner-cutting or bag folding. [See All Bag Clips]
Drum Lids
In the case where drum liners are being used more for protection of the can than the product inside, the bag may be folded over the sides of the can and the lid placed on top. This drastically undermines the full potential of the high-barrier drum liner, but for many processes is satisfactory and convenient.
NOTE: Not all drum liners are able to fold over the top. Discuss what drum size and liner size you are interested in purchasing and our team can confirm or start a sample order for you to test.