Mylar Bags in Food Storage
Mylar bags have revolutionized long-term food storage. They create a barrier between your food and the environment whether that is heat, light, moisture or oxygen. When combined with the necessary oxygen absorbers and food grade storage buckets or containers, they allow your food investment to be stored in the best possible condition. Shop Long Term Food Storage Kits or Freeze Dried Food Packaging Kits.
Sealing Your Mylar Bags
IMPAK's Constant Heat Hot Jaw Sealer (Part Number: IPKHS-606T) will ensure that you have a consistent seal for all of your packages. It is the best handheld unit item on the market that can seal bags as large as 5-gallon drum liners. With an approximate 0.5" seal, this sealer makes sure your food is protected for many years.
For vacuum sealing your bags, we recommend our Keep Fresh 108. This sealer can seal bags up to 10.8" wide and does not require the use of special embossed bags. It is ideal for the organized homemaker that purchases food in bulk, and later repacks into smaller quantities for their family. Shop Sealers
How do I Use Mylar Bags in Food Storage?
After opening the mylar bag in the food-grade bucket or container, place the food in the bag, add the appropriate number of oxygen absorbers, heat seal the top shut, package and label the container. Shop Mylar Bags
Freeze Dried Food Packaging
Freeze dried food is not only the most nutritious food preservation process, but because of this industry standard method it can also be used for dehydrated/dried food packaging. IMPAK is proud to be a provider of supplies for the food preservation community for over 25 years and we look forward to the continued growth and education of the American public.
The most well-known applications for freeze dried food are of course astronaut meals and military rations, without NASA and the US Military we imagine the industry would still be in it's infancy. Also known as lyophilisation or cryodesiccation in the biological, biomedical and food processing industries the prepared food is frozen at between -30°F and -50°F and once frozen a dryer will create a vacuum inside the chamber. As the food is warmed under vacuum the water turns to vapor and evaporates, this is known as sublimation. When finally dry the food is removed and placed inside vacuum sealed MylarFoil bags, or in MylarFoil bags with an oxygen absorber to maintain freshness and longevity.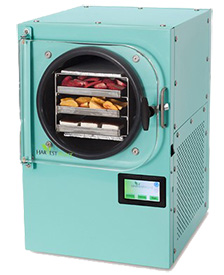 The oldest method of food preservation is dehydration which removes the water, traditionally through evaporation, thereby inhibiting the growth of bacteria, yeasts and mold. Electrical dehydrators are readily available in the marketplace but not required as you can achieve similar results with sun-drying or even wind depending on your locale. Some companies recommend preservatives but freezing or refrigeration are also generally accepted methods of storing dehydrated foods for extended periods of time.
IMPAK highly recommends the American Made Harvest Right freeze dryers found here: www.harvestright.com.
The photo to the right is the most popular home freeze drying system – we even have one here!
To help assist and support the food preservation community IMPAK has created the below complete package which includes heavy duty MylarFoil bags, oxygen scavengers and an impulse heat sealer. Once you have a freeze dryer you will be up and running!
Here's what you get:
• The heavy duty moisture and oxygen barrier bags measure 8" x 12" OD and the bags are OVER 7 mils thick of a MylarFoil material and have tear notches at the top for easy opening when ready to use. There's even a section printed on the bag which allows you to write on the outside with the contents and date which it was prepared.
• A full master bag of 100cc oxygen absorbing packets, just like the ones you see in beef jerky to keep your food fresh. The absorbers are more than sufficient for the 8" x 12" bag so even if the bag is not filled to the top it will still do its job and keep your food fresh for years to come. Simply open the master bag of absorbers once you've got your foil pouches filled and ready to go, drop them in and heat seal. Any remaining absorbers in the master bag can be re-heat sealed in the bag or placed in a mason jar with locking lid.
• Our most popular 12" impulse heat sealer which provides a hermetic seal at the open end of your bag in just a few seconds. It even comes with a free spare parts kit so you can use it for many years to come.