The RSH1575SS™ Continuous Stainless Steel Rapid Sealer™ is more than capable of sealing a minimum of 45 bags (Example; 3.4" x 4") per minute. It comes equipped with a Dry Ink Printer that allows the customer to print up to 20 characters at one time. Perfect for lot codes, expiration dates and company name, the best part of this feature is that the machine will print on the bag at the same time it seals the bag. Capable of heat sealing at up to 300 C°, this machine is capable of sealing most materials used in flexible packaging. The RSH1575SS™ offers all the needed features for a high production rate at an affordable price.
Each unit comes standard with the following additional accessories:
(10) PTFE bands
(2) Urethane drive belts
(2) Black ink rolls
(1) Embossing pin wheel kit for dry ink containing (5) dies each of number 0 to 9 and (3) dyes each of the letters "M", "F", "D", and "E", "X", "P"
Horizontal Specifications
| | |
| --- | --- |
| Sealing Speed | 312in/min |
| Sealing Width | Min seal width 1/8" – max seal width 5/8" |
| Printing Capabilities | Up to 20 Characters at one time |
| Ink Type | Dry Ink Wheel |
| Temperature Range | 32- 575 F° ; 0 to 300 C° |
| Voltage | 110V/60Hz (Also available on 220V/50Hz in a wide variety plugs.) |
| Power: | 500 Watts/4.55 Amps |
| Max. Load on Conveyor Table: | 10 lbs. |
| Machine Size: | 38" X 14" X 14" |
| Weight | 99 lbs. / 45 kg. (With Packaging Included) |
Vertical Specifications
| | |
| --- | --- |
| Sealing Speed | 312in/min |
| Sealing Width | Min seal width 1/8" – max seal width 5/8" |
| Printing Capabilities | Up to 20 Characters at one time |
| Minimum Bag Height | 7.75" |
| Maximum Bag Height | 13.0" |
| Ink Type | Dry Ink Wheel |
| Temperature Range | 32- 575 F° ; 0 to 300 C° |
| Voltage | 110V/60Hz (Also available on 220V/50Hz in a wide variety plugs.) |
| Power: | 500 Watts/4.55 Amps |
| Max. Load on Conveyor Table: | 10 lbs. |
| Machine Size: | 38" X 28" X 14" |
| Weight | 99 lbs. / 45 kg. (With Packaging Included) |
Part Number: 81XSPPRKT
(10) 15.25" PTFE Fluoropolymer Bands
(2) 17.0" Urethane Drive Belts
(1) Temperature Control Printed Circuit Board
(1) Dry Ink Printer Heating Element
(4) Clutch Belts
$159.95
View Complete List of Spare Parts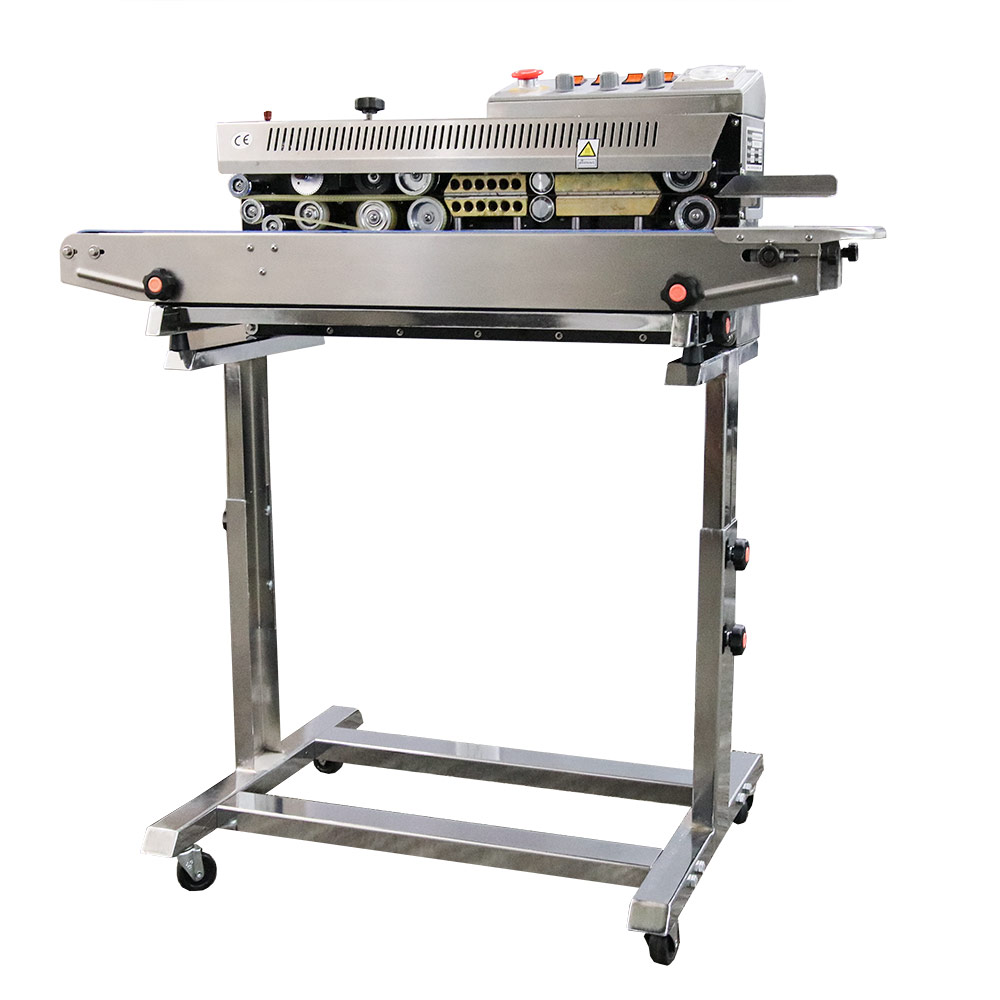 Stainless Steel Stand
Part Number: 81XSTNCST
$190.00