Frangible Seal Pouches: Ready-to-Mix Ingredients
Frangible seal pouches, multi-compartment pouches, or as our engineering staff likes to refer to them – Frangible Seam Pouches – are a unique packaging delivery method in which at least two components must be mixed together to create a functional product. Frangible seal pouches were created for industrial customers with challenging single or multiple-component packaging requiring separation until use. Frangible seal packaging is ideal for operations that require pre-measured liquids, gels, or powders to be stored separated until use. The ingredients are then mixed right in the pouch to activate and dispense on site.
Why do package engineers call them "Frangible Seam Pouches"?
The key to this type of pouch technology is the frangible seam that is different from the outer seams of the overall pouch. (See Fig 1)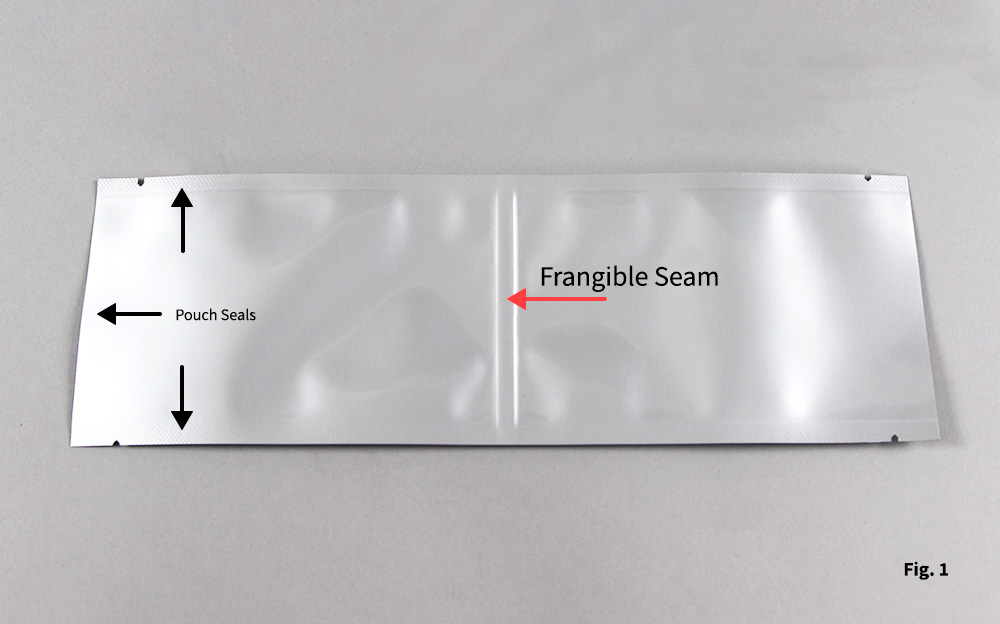 How Does a Frangible Seam Work?
The internal frangible seam requires deliberate pressure to burst the interior weld between the two components, allowing for mix-in-the-bag activation. Contents are kept separate until mixing is required, allowing individually packaged components to remain inert and stable until a perfect mix is made during use.
Any combination of ingredients can be used, such as two-part epoxies, or a powdered product with a liquid activator. Each component is kept separated until pressure is applied to burst the seal separating the contents.
Mixing components is as easy as rolling the contents of the pouch toward the frangible seal, applying pressure to rupture the internal frangible seam, mixing the contents with each other to activate, then using a dispenser tip, spout, tear notch, or cutting the corner to allow the activated components to release in as precise a manner as required by your operations.
Spout options are widely available.
IMPAK Frangible Seal pouches are manufactured with multi-layer barrier films offering high chemical resistance to contents. Each pouch system keeps the contents pre-measured and separate until application. This allows for easy dispensing and accurate mixing.
• Safe: Eliminates errors
• Precise: Reduces material waste
• Convenient: Saves time and labor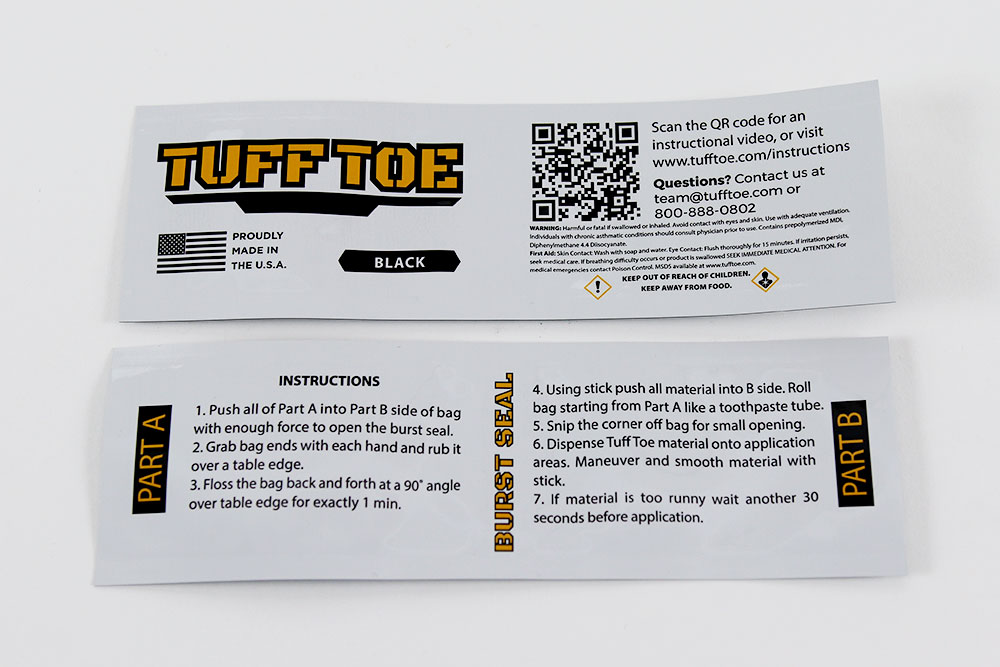 Benefits of using Frangible Seal Pouches:
• Varying size, shape and capacities available
• Contents can be pre-dispensed for use in any ratio
• Frangible seals are preset for ideal burst pressure
• Contents can be liquid, gel, powders, adhesives, and active resins
• Frangible Seal pouches are fully disposable, and eliminate pre-measuring
• Improves shipping, storage, handling and shelf life of contents
• Customizable with high-quality custom printing available
Contact Us
What goes in a Frangible Seal Pouch?
Providing your MSDS to IMPAK will allow us to review chemical compatibilities against available film layers, to ensure your contents are stored for use properly. Pre-measured industrial liquids, gels and powders can be filled in any mix ratio.
Suitable for contents with varying viscosities such as:
• Liquids, gels, powder
• Two-part or single epoxy compounds
• Inks, chemicals
• Lubricants, greases
• Sealants, adhesives
• Silicones, Urethanes, UV curable compounds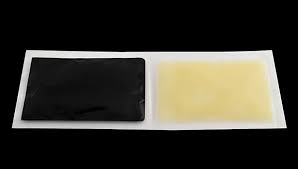 Industries utilizing IMPAK Frangible Seal Pouch technology:
• Aerospace, Military, Marine
• Medical, dentistry, lab
• Construction, utilities, automotive
• Electronics, computer, telecommunications
• Industrial or field repair or assembly
Case Study
Here is a great example of one of the largest frangible seal pouches we have ever seen at 16" x 36" even without the dispenser tip! Depending on the application, you would be surprised by what is possible through custom design. Below is a video of how they recommend bursting the internal seal.
Watch on YouTube: "Opening frangible seal pouch"
Not sure how to package your product? Bring us your challenges!
Frangible Seal Pouch Sizing:
Frangible Seal pouches are available in various one, two, and three component liquid, paste, and powder systems. Our manufacturing operations allow for multiple types of clear unprinted Frangible Seal pouches available for shipment, or custom-made packaging in various sizes.
Standard IMPAK Frangible Seal Pouch
The material structure for this pouch (PAKVF46MCP) is 4.0 mil thick film foil and polypropylene, specifically designed to work in situations where the final product may cause layer separation or structure delaminating. Moist towelettes, oil, or alcohol impregnated media, essential oils, incense, and cosmetic products are all excellent candidates for this structure. The foil layer provides strong moisture barrier properties for both dry and wet products.
Frangible Seal Pouch - Available Now ↓
Part Number
Size
Material
Order
03MCP09FSTN

3.0" x 9.0" O.D.
PAKVF46MCP
100 - 500 bags: $0.399/ea.
600 - 1900 bags: $0.339/ea.
2000 - 4900 bags: $0.279/ea.
5000+ bag: $0.159/ea.

Custom Printing
Custom printing can be done during the manufacturing process, directly on the Frangible Seal bag, or custom-printed outer packaging containing your company and product information and instructions can also be printed. We also offer coatings or over-lamination for a more durable printed surface. Speak to a Custom Print Specialist for help with your project.
Request Forms for printed packaging material are available along with print guidelines.
Sealing Frangible Seal Pouches:
IMPAK Corporation offers multiple sizes, capacities and styles of sealing equipment, designed to support your filling and distribution operations. Please speak to a technical representative now for insights into what sealer equipment will best suit Frangible Seal pouch applications and your needs. See our Impulse Table Sealers for additional sealer information.
---
Interested in Learning More?