Mylar Envelopes
Quick Links

CUSTOM MAILERS

Since custom printing is a core capability at IMPAK, we have been called upon to create US Postal Service certified "mylar" preprinted envelopes. LiquaSafe produces a test which allows homeowners to test their drinking water for lead. The pouch is produced from our high moisture barrier MylarFoil™ ( PAKVF4 ) product which keeps the kit components dry and secure.
MAILERS: MAIL TAPE CLOSURE STYLE
This is the more traditional style MAILER - using a tape closure, in which one end is open and closed by removing the paper which exposes the tape. This pouch can be produced in two different ways. One is with a "lip" in which the tape is exposed and the "lip" part of the pouch is folded over to close and secure the bag and its contents.
These bags and mailers are your best option and most effective cost option since they are produced in high volume. IMPAK has this material in seven (7) different colors and can produce as few as 1M.
For more information regarding sizes, colors or availability, please contact our Sales department.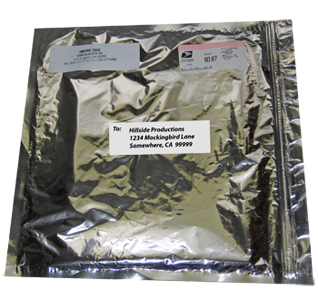 12MBIL12OZE
12" x 12" OD - Mylar Black Inner Layer Open Zipper End
This unique 2.5 mil material has a classic shiny mylar exterior with a black lightblock™ interior layer.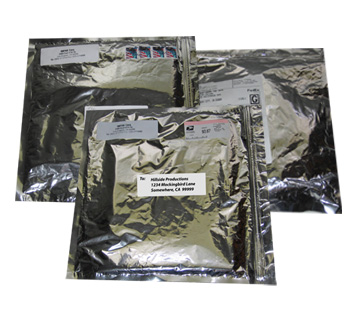 Dimensions:
2.5" x 7.0" + 1.2" OD     
P/N:
MTC02508125L
Color/Material:
Vista/Black
Packaging:
1,000/case
Style:
Vista pouch with 1.2" lip and 20mm tape
Dimensions:
12.0" x 14.5" OD     
P/N:
MTC12145L
Color/Material:
Vista/Black
Packaging:
500/case
Style:
Vista pouch with 1" lip and tape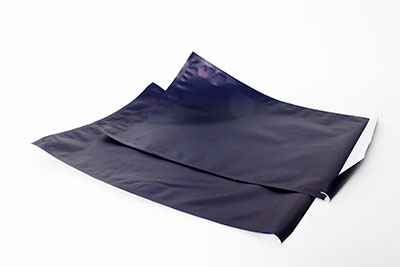 Dimensions:
12.0" x 15.5" OD     
P/N:
MTC12155L
Color/Material:
Blue/Blue
Packaging:
500/case
Style:
Pouch with 1" lip and tape