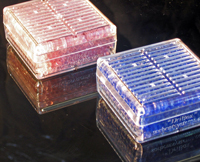 A

DriBox

is a transparent polycarbonate and regenerable dehydrating cartridge. The

DriBox

is approximately 2.0" x 2.0" x 1.0" and contains 45.5 grams of Indicating Silica Gel, a type of desiccant that will turn from blue to pink when it can no longer pick-up moisture.


What Does a DriBox Do?
DriBox will remove the moisture (and thus prevent corrosion) in a sealed 3 cubic ft. area. A safe is a good example of a sealed area, as is a tool box with a gasket. When used in a sealed area, the DriBox may not have to be re-generated for over a year. The DriBox will also assist in the prevention of corrosion, mildew, and other problems caused by humidity in unsealed containers. It has worked in fishing tackle boxes, plastic clothing storage containers, wooden boxes used to store collectibles and even plastic bags.
IMPORTANT: A plastic "freezer grade" ZipSeal bag is not a very good place to keep moisture sensitive objects. However, any of these containers, including the plastic ZipSeal bag, will work when used in conjunction with the DriBox; however, because these are not perfectly sealed containers, you may have to re-generate the DriBox more often, perhaps as often as every month. But it will still keep leather goods from developing mildew spots, instruments and electronics from corrosion and rust, stamps from becoming gummy, photographs from humidity damage, and collectibles from deterioration and mold.
Please send us your pictures of how you are using the DriBox! - "Great for NEMA enclosures"
How do I re-generate a DriBox and what does it mean?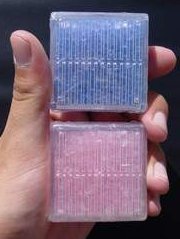 In the image to the left, the top DriBox is active. The deep blue color means that the water has been pushed out of the pores of the silica gel inside.

When the DriBox turns pink, the silica gel is saturated with water and must be re-generated..

The DriBox can be regenerated thousands of times. It is a useful product that is also very ecological. It can be re-generated in either a conventional oven or a microwave oven.
READ THE RE-GENERATION INSTRUCTIONS BELOW!!!
(If you melt the plastic case-it is not our fault!)
Packaging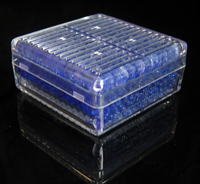 All of our DriBoxes are packaged in a recloseable Foil ZipSeal bag. Perfect for storage when not in use! The reusable canister itself measures approximately 2.0" x 2.0" x 1.0" and is made from durable, clear microwaveable plastic.


Instructions for Re-generation
*When the Small beads of silica gel inside turn pink, place the sorbent box in a microwave and heat several times until the silica gel beeds are once again blue.

IMPORTANT: Never leave the DriBox in the microwave longer than 45 seconds at a time.

When using a conventional oven: Set the temperature at 225°F and leave the DriBox in for 3 - 4 hours, or until the silica gel has returned to its deep blue color.
Most Popular Application: Safes
The primary insulator of most safes is sheetrock . Sheetrock is relatively inexpensive and is actually very effective in a fire. It transfers heat extremely slowly. A typical safe may have over 100 pounds of sheetrock inside of it. Moisture, normally trapped in the gypsum mixture, when heated above 212 degrees, turns to steam and escapes. This process is called 'calcination' and will hold the internal temperature of the safe at approximately 220 degrees until the sheetrock has dried out completely. While this offers substantial protection against heat and/or fire exposure, moisture trapped inside of the sheetrock presents a high risk of moisture exposure and rust. This can pose serious problems for guns and ammo stored inside of safes. Many of our customers have found that our DriBox is especially suitable for protecting valuables, guns and ammo stored inside of safes.

Learn More


Part Number
Quantity
Order

1494MS99IP - 4A off-white molecular sieve dribox
35 grams/box, 2-4 mm bead size

1 - $18.95
4 - $19.95
24 - $99.95
48 - $179.30
Part Number
Quantity
Order

1494OSB99 - 45.5 gram orange indicating silica gel DriBox
1 sorbent box per Foil ZipSeal Bag

1

1494OSB99CS 45.5 gram orange indicating silica gel DriBox
(6 Foil ZipSeal Bags with 4 per bag)

24
Part Number
Quantity
Order

1494SB01
45.5 gram blue gel reusable sorbent box
1 sorbent box per Foil ZipSeal Bag

1

1494SB99
45.5 gram blue gel reusable sorbent box
4 sorbent boxes per Foil ZipSeal Bag

4

1494SB99CS
Case - 45.5 gram blue gel reusable sorbent box
(6 Foil ZipSeal Bags with 4 per bag)

24