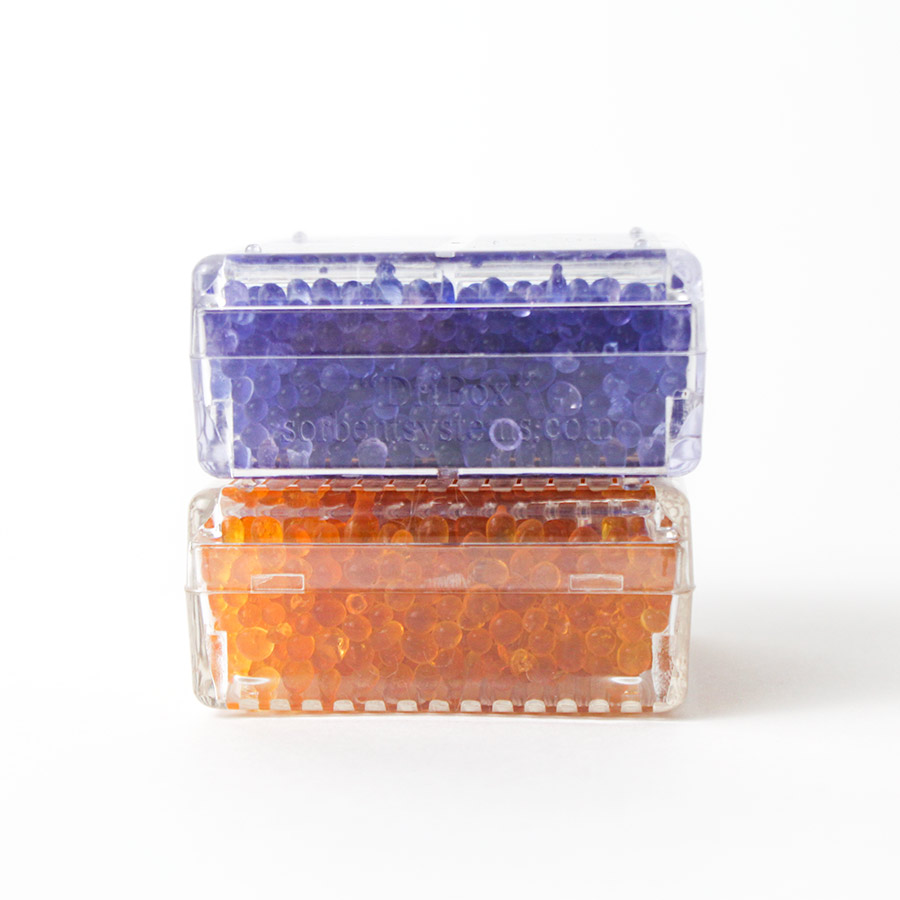 DriBox Desiccants
What is a Dribox?
A DriBox is a transparent polycarbonate and re-generable dehydrating cartridge. The DriBox is approximately 2.0" x 2.0" x 1.0" and contains different desiccant types customized to your application.
What Does a DriBox Do?
The DriBox will remove moisture and lower relative humidity levels (thus preventing corrosion) in a sealed 3 cubic ft. area. When used in a hermetically sealed area, the DriBox may not have to be re-generated for over a year. The DriBox will assist in the prevention of corrosion, mildew, and other problems caused by humidity in unsealed containers.
Shop DriBox
Regenerate Your Dribox
Applications & Markets:
check Safes
check Drones
check Collectibles
check Gun & Ammo Storage
check Fishing Tackle Boxes
check Wooden Boxes
check Plastic Clothing Storage Containers
IMPORTANT: Please note that there are many factors that will have an effect on the performance of the DriBox. For instance, a plastic "freezer grade" ZipSeal pouch and other plastic snap containers would not be the ideal place to keep moisture sensitive objects. However, these containers, including the plastic ZipSeal bag, will work when used in conjunction with the DriBox. If containers are not perfectly sealed you may have to re-generate the DriBox more often, perhaps as often as every month. The DriBox will still keep leather goods from developing mildew spots, instruments and electronics from corrosion and rust, stamps from becoming gummy, photographs from humidity damage, and collectibles from deterioration and mold.
How do I Re-Generate My DriBox?
When the small beads of indicating silica gel inside the DriBox turn from blue to pink or from orange to green, it is time to re-generate the cartridge.
Microwave: Place the DriBox in the microwave for no more than 45 seconds (or until the desiccant has returned to its original color.)
Conventional Oven: Set the temperature at 225F and leave the DriBox in the oven for 3-4 hours, or until the silica gel has returned to its deep blue color. (IMPAK is not responsible if you melt the plastic case)
Product Specifications
Technical Data Sheet: Blue Indicating Silica Gel DriBox
Technical Data Sheet: Orange Indicating Silica Gel DriBox
Technical Data Sheet: Molecular Sieve DriBox
Committed to the Green Initiative:
The DriBox product meets our standards for our Green Initiative and commitment to eco-friendlier alternatives. This product is re-usable and in most applications, replaces the need for using single use desiccant pillow packs. Since this product can be reactivated, it saves on the amount of desiccants used, which in turn means less waste, less production, less shipping and transit times (space in cargo containers, trucks, and fuel costs), as well as saving the consumer money. These benefits in turn mean we are reducing the size of our carbon foot print. For more applications and product case studies, Click to Learn More.