CounterMate Vacuum Sealers
The Professional-Quality Home Vacuum Sealers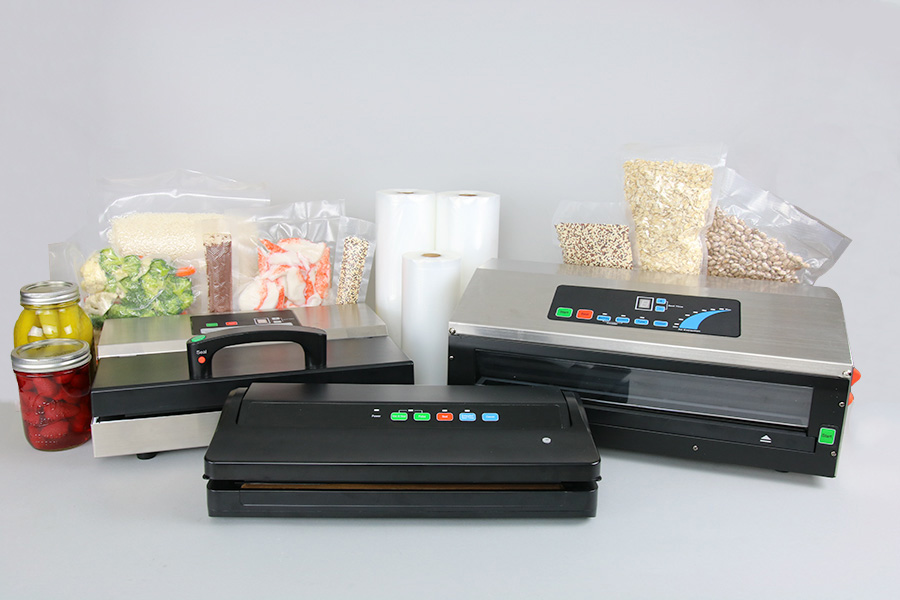 The Complete Home Sealing System: Vacuum Sealing, Canning and Marinating.
*Made specifically for use with textured channel bags. The original KeepFresh vacuum sealer can seal smooth bags; see that product here: KF108 Sealers.
The snap close lid and easy operation of the Starter Series make it a household favorite, and the attached roll-dispenser with built in cutter makes the Deluxe series the popular all-in-one option, while the Professional Series in two sizes are favored by hunters and preppers, and the Masters Series is in a class of its own with its automatic operation. Included in all: Easy-to-use control panel, adjustable seal settings, a pulse vacuum option, catch tray for easy cleaning and a vacuum hose port for canning and marinating
Standard Features
Easy-to-Use Touch Pad
Manual Pulse Vacuum
Hose Port for Canning/Marinating
Removable Sauce Tray
Compatible with Channel Bags (FoodSaver®, IMPAK, etc.)
Optional Features - Product Specific*
Built-in Roll Dispenser
Seal Time Indicator
Air Extraction Meter
Automated Sealing
---
---
---
---
---
Videos
Starter:
Deluxe:
Pro L:
Pro XL:
Master:
---
Technical Specifications
Starter
KF1225SSVS
Deluxe
BTC1225CGVSK
Pro L
BTC1225CGVS
Pro XL
BTC16CGVS
Master
BTC1525CGVS
Seal Length
12.25"
12.25"
12.25"
16.0"
15.25"
Seal Wire Width
2 mm
3 mm
5 mm
5 mm
5 mm
Max Bag Width (in)
12.20
12.20
12.20
15.98
15.35
Voltage
100-120v~60hz
100-120v~50hv
100-120v~60hz
100-120v~60hz
100-200v~60hz
Power
110w
230w
680w
580w
650w
Pump
Single
Dual
Dual
Dual
Dual
Pump Pressure
-23"Hg/-778mbar
-28.3"Hg/-958mbar
-28.3"Hg/-958mbar
-28.3"Hg/-958mbar
-28.3"Hg/-958mbar
Weight (lbs)
3.75
9.04
13.23
15.21
15.43
FEATURES
Manual Pulse Vacuum
Yes
Yes
Yes
Yes
Yes
Seal Time Indicatore
No
Yes
Yes
Yes
Yes
Air Extraction Meter
No
No
No
No
Yes
Extended Seal Time Function
Yes
Yes
Yes
Yes
Yes
Cancel Button
Yes
No
No
No
Yes
Built-in Bag Dispenser
No
Yes
No
No
No
Vacuum Hose Port
Yes
Yes
Yes
Yes
Yes
Vacuum Hose Included
No
Yes
No
No
No
Interested in learning more?