Home/Lab Vacuum Sealer
The KeepFresh Home Commercial Vacuum Sealer KF108 (previously known as VS-280) combines the benefits of compact design and efficiency. This rugged little unit has some of the features found on industrial snorkel vacuum sealers at a fraction of the price. Features such as a retractable metal nozzle, dual side by side seal and a solid state seal timer. Used in quality control laboratories in electronics, food processing facilities, it has also proven useful to homemakers, fishermen, backpackers, and collectors of books, coins, etc. This is the ONLY low cost vacuum sealer that does not require the use of special bags.
With this vacuum sealer, you can seal bags up to 10.8" wide.
This is also an ideal unit for the organized homemaker that purchases food in bulk and repacks into smaller quantities for her family. For extended shelf live or to guarantee no mold growth on home made jerky or other all natural products - use oxygen absorbers also.
How to effectively seal a bag using the KeepFresh Home/Lab Vacuum Sealer
Check out how one school teacher used our KF108! commercial vacuum sealer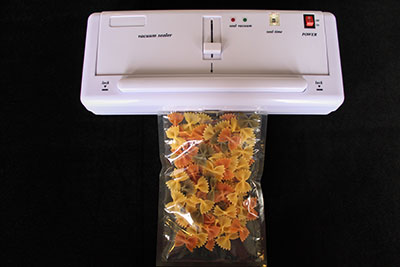 KF108 Specifications
Power: 110V/60 Hz
Vacuum: 0.035MPa
Width of Seal: up to 11"
Seal Width: 2 line seal
Seal time: Adjustable
Size: 14" x 6" x 3"
Weight: 5 lbs.
If you have any questions about this commercial sealer, please take a look at our Frequently Asked Questions page.
How to Choose the Best Vacuum Sealer
Do You Need Textured Vacuum Bags for Use with an External Clamp Vacuum Machine?
Need a higher production volume for commerical use?
Check out the PNG460 and AirZ450ED
More commercial sealers available here