Quick Links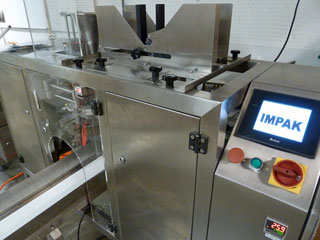 The PIK N PAK™ System is capable of opening and sealing most types of printed or unprinted pre-made pouches. At a rate of up to 20 bags per minute, this machine will increase production and lower labor costs, paying for itself.

Units can be customized to meet specific applications for different products. Some customizations include filling modifications to package liquid, powder, or solid products.

The PIK N PAK™ can be easily integrated with a filling/weighing machine, or adapted for manual filling. The PIK N PAK™ is capable of opening a bag as small as 3.4 inches in width and 4 inches in length. Adjusting for different bag sizes takes less than five minutes. With a pneumatic safety system and a easy-to-read interface, entry level personnel can be trained to operate the PIK N PAK™ System.