IMPAK bag sealers are perfect for budget and space conscious bag sealing applications and are ruggedly built to provide years of trouble free service.

Each pneumatically powered bag sealer unit has sufficient jaw clearance to introduce your package from back to front or side-to-side. Standard controls include a glycerin filled gauge, pressure regulator, separate heat and cool timers and a tap to start foot pedal. This ensures that each bag seal will be airtight and water tight. All IMPAK bag sealers are powder coated and therefore clean room compatible.

A bottom flange allows for this bag sealing unit to be mounted horizontally or vertically.

Each unit comes complete with a one-year warranty, detailed operating instructions and a spare parts kit.
MP Table Top Bag Sealer
(available in 15 - 20 and 25 inch lengths)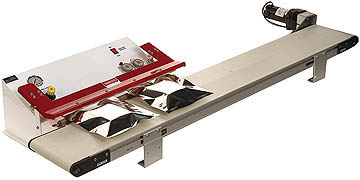 MPPCC Bag Sealer with Conveyor
MP 15, 20, & 25 SPARE PARTS KITS:
Replacement Parts For Consumables
Part Number: MPXSPPT15
Single Element ¼"
Includes:
• 1 - 0.25" wide, 15" Long Heating Element
• 1 - 0.5" wide, 15.25" Long Orange silicon rubber strips with adhesive backing
• 2 - 6 mil Thick, 2" wide, 15.25" Long Teflon covers with adhesive strips
• 2 - 10 mil Thick, 0.5" wide, 15.25" long Teflon strips with adhesive backing
$209.80

Part Number: MPXSPPT20
Single Element ¼"
Includes:
• 1 - 0.25" wide x 20" Nichrome Heating Elements
• 1 - 0.5" wide, 20.25" Orange silicon rubber strips with adhesive backing
• 2 - 6 mil Thick, 2" wide, 20.25" Long
• 2 - 10 Mil thick, 0.5" wide, 20.25" long
$255.50

Part Number: MPXSPPT25
Single Element ¼"
Includes:
• 1 - 0.25" wide x 25" Nichrome Heating Elements
• 1 - 0.5" wide, 25.25" Orange silicone rubber strips with adhesive backing
• 2 - 6 mil Thick, 2" wide, 25.25" Long Teflon covers with adhesive strips
• 2 - 10 Mil thick, 0.5" wide, 25.25" long Teflon strips with adhesive backing
$286.48

Part Number: MPXSPPT15D
Dual Element ¼"
Includes:
• 2 - 0.25" wide, 15" Long Heating Element
• 2 - 0.5" wide, 15.25" Long Orange silicon rubber strips with adhesive backing
• 2 - 6 mil Thick, 2" wide, 15.25" Long Teflon covers with adhesive strips
• 4 - 10 mil Thick, 0.5" wide, 15.25" long Teflon strips with adhesive backing
$229.50

Part Number: MPXSPPT20D
Dual Element ¼"
Includes:
• 2 - 0.25" wide x 20" Nichrome Heating Elements
• 2 - 0.5" wide, 20.25" Orange silicon rubber strips with adhesive backing
• 2 - 6 mil Thick, 2" wide, 20.25" Long
• 4 - 10 Mil thick, 0.5" wide, 20.25" long
$275.50

Part Number: MPXSPPT25D
Dual Element ¼"
Includes:
• 2 - 0.25" wide x 25" Nichrome Heating Elements
• 2 - 0.5" wide, 25.25" Orange silicone rubber strips with adhesive backing
• 2 - 6 mil Thick, 2" wide, 25.25" Long Teflon covers with adhesive strips
• 4 - 10 Mil thick, 0.5" wide, 25.25" long Teflon strips with adhesive backing
$296.48

MP 15, 20, 25 Spare Parts
| Part Number | Description | Price | Order |
| --- | --- | --- | --- |
| RM23010-1 | 6 mil x 2" x 1 yd. Teflon PTFE Cover with Adhesive | $18.70/yard | |
| TST10121 | 10 mil thick x ½" wide Adhesive PTFE tape | $16.98/yard | |
| TSS141 | ½" wide Silicone Sponge | $15.80/yard | |
| MPH1415 | Heating Element ¼" x 15" for MP/MPD-15 | $118.90/each | |
| MPH1420 | Heating Element ¼" x 20" for MP/MPD-20 | $123.75/each | |
| MPH1425 | Heating Element ¼" x 25" for MP/MPD-25 | $135.90/each | |
Demo Video of Tabletop Impulse Bag Sealer