Package Design Guide
Quick Links

Reading this throughly will be of immense value to you. It cannot be emphasized enough that this should be done prior to emailing or telephoning with further questions.



READ FIRST!!!

How to maximize your benefit:

All of the information below is ONLY for customers whom obtained a Package Design Guide from us

Each specific item has a numerical "sticker" attached to it. The outer bag is number 1.

---

1.    Product: Vista bag PAKVF4/PAKPM4 - 15.0" x 16.25" O.D.
         Primary Application: Electronics, Product Storage of Moisture Sensitive items.


A Vista™ bag is constructed with one clear panel. In this particular application, electronic circuit cards are placed inside along with a desiccant pack and a Humidity Indicator Card. The humidity indicator card allows the humidity level to be confirmed before opening the package and final assembly.

This item (P/N: 145VST16ID)is a stock item and readily available.

In this particular case we have used this 15.0" (wide) x 16.25" (tall) bag as the pouch into which all other samples in the selection kit have been placed.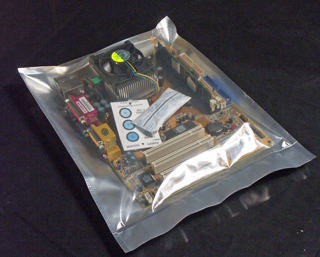 This 3 sided seal vista bag can even be used as a mailer.
---
2.   
Product:
Vista™ Silver Stand Pouch PAKVF4/PAKPM5 - Front panel: clear - Back panel and bottom:
aluminum foil 3.125" x 5.0" x 2.0" bottom gusset.
Primary Application:
Food Products, novelties, spices.
This is our smallest bottom gusset pouch and is one of 8 standard sizes as of May 2008 that are available unprinted and in inventory. These pouches range from the "AA" size, which is the smallest through stand up bags that begin with the letters A, B, C, D, E, G & L. The "AA" size will hold 50 - 60 grams of material (using peanuts as a reference guide) or less than 2 oz. and the "L" size will hold 4 - 5 kilograms or 8 - 10 lbs. depending on the material or food product.
This item (P/N: AAVS01Z) is a stock item and readily available at our stand up bags ordering page.
---
3a.  
Product:
6 color stand up pouch with ZipSeal™ - 4.0" x 6.41" x 2.25"
Primary Application:
Food Product.
Item 3a is an ocean salt bag made from PET/LLDPE and is 4.5 mils thick. This pouch is a printed version of our standard "A" size 2 ounce stand up pouch which is available in clear, vista and aluminum foil in silver, gold and black.
This item (Size: 4.0" x 6.41" x 2.25") is a stock item and readily available.
---
3b.    
Product:
3 side seal printed and unprinted Mylar® pouches.
Primary Application:
Food bar packaging
Item #3b in the Product Selection Kit actually contains 3 separate pouch samples, two of which (Baraka bar) are IMPAK's PAKPM4 structure once again introducing those new to the field that Mylar® - 100% polyester - or PET, is actually a clear material. Please note that the customer specified a bottom tear notch on this three side seal pouch, intelligently placing the tear notch on the opposite end of the pouch that will be run through a RapidSealer® whcih can also imprint a lot code and expiration date.

See
video
of a RapidSealer® in action.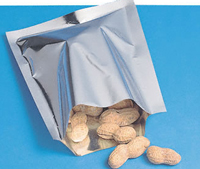 Between the two printed pouches is an unprinted PAKVF3.5M pouch. This is the product more commonly known to those with only a modicum of experience in the field as "Mylar®." Peering inside the pouch, one should be able to see through this material and easily identify a stop sign from a significant distance.
Mylar® is a registered trademark of the DuPont-Teijin

---
4.  
Product:
Printed MetPet stand up pouch wtihout ZipSeal™ - 5.0" x 8.0" x 3.0"
Primary Application:
Single serving food product.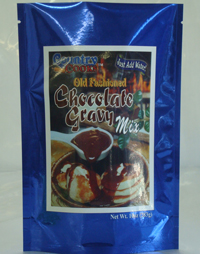 This printed pouch is a metallized polyester or MetPet pouch, not an aluminum foil pouch, despite its silver inner layer. This was produced as a single use food product package and its dimension is an example of IMPAK Corporation's standard "B" size without ZipSeal™ pouch for 4 ounces or 100 grams of dry product available unprinted in a number of colors.

This pouch is noteworthy for its tear notches and its lack of a ZipSeal™ feature because it is for a single use product. Careful examination will show you that the metallized polyester, which is a good moisture barrier, is clearly not aluminum foil, which is a far superior moisture barrier. Holding this pouch up to the light and looking inside will clearly demonstrate that despite its aluminum foil 'appearance' VMPET or vacuum metallized polyester is a material that has translucent or transparent properties.


---
5.  
Product:
Printed pouch with recloseable cap.
Primary Application:
Powder package (Squeaky Cheeks) with recloseable fitment.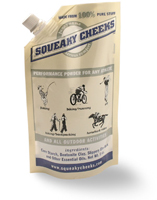 IMPAK Corporation has a number of stock unprinted SpoutPAK™ pouches with an integrated screw cap. Although this printed product was designed for a powder, the majority of SpoutPAK™ bags with integrated closures are used for liquid. This particular size 4.75" x 8.0" x 1.5" (P/N: SP250PM5.5) is readily available from inventory and will hold 250 milliliters or 8.5 fl oz. of liquid.
---
6.  
Product:
Printed "C" size stand up pouch with dual track ZipSeal™ - 6.0" x 9.37" x 3.25"
Primary Application:
Consumer Product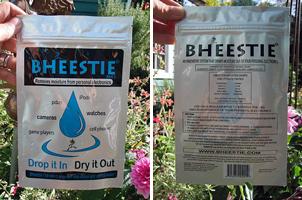 Bag #6 in the product selection kit is a high moisture barrier stand up pouch produced from our standard PAKVF4 foil barrier material. A further addition of a dual track zipper provides additional moisture barrier properties. The recloseable plastic zipper or ZipSeal™ is defined by package engineering professionals as a 'torturous path' for moisture ingression, gas permeation, and overall concern for product stability. The ability to produce flexible packages with a wide variety of zipper options is a hallmark of IMPAK Corporation.
BHEESTIE® is a product that began with the standard PAKVF4 "C" size stand up pouch, which is designed typically to hold 6 to 10 ounces or approximately 200 grams of food products (granola, dried fruit, etc.) The dual track ZipSeal™ was added when the customer moved to custom printing to insure the moisture barrier needed, since there is desiccant packet enclosed.
This item (Size: 6.0" x 9.37" x 3.25") is a stock item and readily available on our stand up bags ordering page.
---
7.  
Product:
4.5 mil Polyester/Poly stand up bag w/recloseable zip. D size stand up pouch
6.7" x 11.0" x 3.5" bottom gusset.
Primary Application:
Organic food Product
This pouch is a fine example of IMPAK Corporation's ability to produce very high quality images in relatively small quantities. The enclosed sample is one of four separate images that were produced to an order of less than 6,500 each.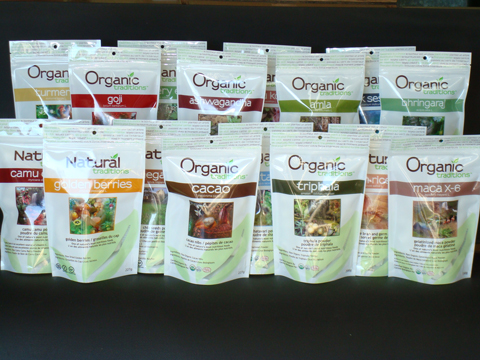 ---
8.  
Product:
Custom printed tamper evident ZipSeal™ pouch with hang hole. PAKVF4MCP 5.0" x 8.0"
Primary Application:
Oil impregnated wiping cloth. (Otis Technology, Inc.)
This package is an excellent example of a solution that resolves several specific challenges. First and foremost, the material structure PAKVF4MCP, is designed specifically for solvent and oil based products that often cause package delamination. Otis Technology had a wiping cloth impregnanted with an oil. A standard structure like PAKVF4 or PAKVF4N would not have the appropriate inner layer to withstand the delamination effects of essential oils, fragrances and other chemical compounds.
Note: This pouch is also an excellent example of one of the three options for hang hole style. This style is referred to as a "sombrero" hang hole.
Anyone considering a product that might have agressive chemical compounds, fragrances or essential oils MUST consider evaluating this structure (PAKVF4MCP) or PAKVF4PC at length to avoid package delamination.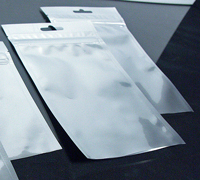 There is an unprinted version of this pouch available (P/N: 05MCP08TE) via the IMPAK Corporation sample request page.
If your product is causing package delamination, this readily available item may prove to be a solution.
---
9.  
Product:
Bottom gusset 4.6 mil foil oxygen barrier ZipSeal™ foodgrade stand up bag
7.625" x 11.75" x 4.0"
Primary Application:
Food product dehydrated powder natural (USDA Certified) organic food product
(24 ounces/680 grams)
This 4.64 mil aluminum foil pouch is the ideal choice for a moisture sensitive food product. It is also a good example of how IMPAK's standard "E" size pouch, which in our table of sizes/weights is referenced as a 16 oz. pouch cannot be assumed to hold the weight referenced in the table shown on the stand up pouches page. Here is an example where a more dense product, flaxseed powder, even dehydrated with all water content removed turns a standard 1 pound pouch into a 24 ounce stand up bag. NOTE: IMPAK Corporation's ability to print fine details such as the small type: stating that this bag contains "650 grams."
---
10.  
Product:
Aluminum foil side gusset bag (Birdie Pet Food Products)
Primary Application:
dry (moisture sensitive) pet food product
These bags represent both a great example of a quality multi-layer structure with aluminum foil for true moisture barrier as well as clearly demonstrating IMPAK's ability to produce multiple printed images without requiring a large volume order quantity from the customer. In this case, the Birdie Pet Food Products Company obtained 6,000 each of the 5 separate images, 4 of which are included in this kit.
Please note the printed side panels and the commendation on the back panel of this bag.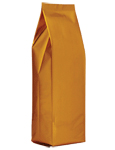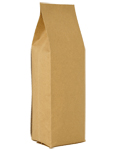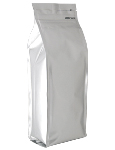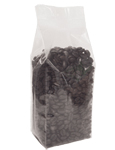 Side gusset bags are an effective way to package heavy or dense ingredients that allow the gussets to form a square on the shelf or stand vertically in a shipping carton.
---
11.  
Product:
2 items!: P/N: 035MFW065Z is INSIDE P/N: 12MBIL12OZE.
Primary Application:
Various medical and general industrial products.
These two items in the product selection kit are provided as a combination with the intention of clearly showing the difference between an OZE (Open Zipper End) Mylar ZipSeal™ bag and a tamper evident moisture barrier ZipSeal™ pouch as commonly used with diagnostic test kits, test strips and other items.
Each pouch has unique features that are part of the world of flexible packaging design and development. The 12" x 12" Mylar ZipSeal™ bag has a black sealant layer that is a barrier to ultraviolet light. Structure: PAKVF2.5MB (LIGHTBLOCK) - This particular structure is a medium level moisture barrier, a very good ultraviolet light barrier and can be used for a range of applications, including sample storage, quality assurance and super absorbent packaging.
The white foil moisture barrier ZipSeal™ pouch is an excellent moisture barrier utilizing all of the benefits of PAKVF4W a structure that has come to be highly regarded and well established in the Biomedical Industry for lateral flow devices, test strips and microscope slides; at the same time it has found a home in the swimming pool test kit market. Look closely at this pouch and you will see the fine details that are a result of high volume production on efficient precise production machinery. Note the very narrow (approx: 0.25") side seals that meet or exceed the seal strength of a larger side weld such as that in the Otis Gun bag (#8) as well as the precise location and clean cut of the diamond style tear notch. PAKVF4W is a cGMP produced structure that can be converted into virtually any of the pouches enclosed in the product selection kit.
Both sample bags and other foil ZipSeal™ bags are available from inventory.
---
12.  
Product:
7 mil - 8.0" x 8.0" O.D. 2 side seal pouch with foldover bottom.
Primary Application:
Electronics Packaging, crating material.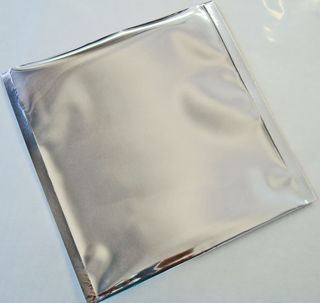 This is a basic 2 side seal foldover bottom pouch produced from a material with extremely high moisture & oxygen barrier properties. This material originally found its most appropriate use in the microprocessor industry, where it held a vacuum despite a product with sharp edges.
A review of the PAKDRY1500 specification will show that it is subject to numerous tests for anti-static properties and has a specific line item for puncture resistance. IMPAK can produce almost any style of pouch from PAKDRY1500; a number of 3 side seal pouches are available via the website and in inventory, including a 20.0" x 30.0" bag, that can be used with either a desiccant or an oxygen absorber to both maintain product stability, insure product quality during storage, and prevent adverse effects from moisture.
---
13.  
Printed Filmproof:
Enclosure #13 is an example of a unique capability IMPAK Corporation can provide prior to final production. A sample of an actual pre-press film proof has been attached to an explanation sheet.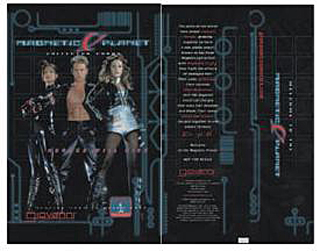 ---
14.  
Product:
Clear stand up pouch - 14.5" x 19.0" x 6.0" PAKPM56
Primary Application:
Inventory item: IMPAK Corporation
This is an example of the largest stand pouch that IMPAK Corporation is currently able to produce; this bottom gusset stand pouch will hold 8 – 10lbs of product and is available as an inventory item in cases of 250 each.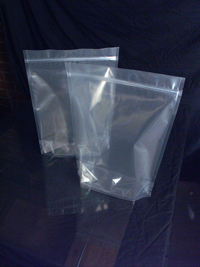 This stand up bag (P/N: LPTCL01) enclosed and an aluminum foil version (P/N: LPTG01) are both stock items and readily available.
---
15.  
Product:
Stand up bag (GR575Z) 11.0" x 16.2" x 5.75"
Primary Application:
Moisture sensitive food, chemical and industrial products.
This bag is produced from a moisture barrier lamination that is 5.6 mils thick (127+ microns) with a recloseable plastic zipper that will hold 4-5 pounds of dry product or a minimum of 1 gallon. This particular size is maintained in inventory and can be requested from our sample department via the request form.
---
16.  
Product:
Vista pouch - clear front and green back (4.0" x 6.41" x 2.25")
Primary Application:
Snack food, nuts, herbs.
This Met Pet vista green bag with K-seal pouch is different from many standup bags in the Product Selection Kit for two reasons. First, it uses a lighter weight printed metallized polyester (green) for the back and second it has a bottom seal style called a "K-seal." Compare the 'K' seal to the RBG or Round Bottom Gusset style of the small 'AA' vista stand pouch #2 or the 4-5 pound capacity of #15 and the difference is clear.
This product is produced on a monthly basis in high volume for a specific customer and thus readily available for anyone that should desire a small quantity.
---
17.  
Product:
3.5 mil Matte Brown stand up bag with K-Seal - 6.0" x 7.5" x 3.0"
Primary Application:
Chocolates, food products, gift items


Item Last Updated 04/2010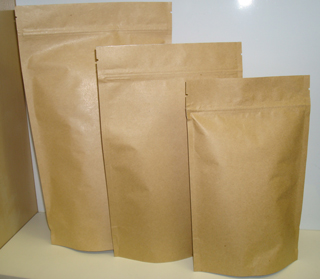 This is a 3.5 mil PAKVFM350 stand up bag, which like its cousin #16 is a K-seal stand up pouch made from a matte printed structure NOT INCLUDED in this kit, but shown in photo at left, is our natural kraft material fabricated into a stand up bag.
Samples of our Brown Natural Kraft paper laminated to aluminum foil stand pouches are available via the website. Compared to the Matte Brown stand up pouch in the Product Selection Kit (#17) the kraft paper has a much more "natural" appearance and the foil lamination makes it an excellent moisture and oxygen barrier for organic food products, coffee, tea, chocolate and other specialty items.
---
18.  
Product:
Custom printed finseal aluminum oxide barrier pouch - (6.5" x 10.25")
Primary Application:
Confectionary tray overwrap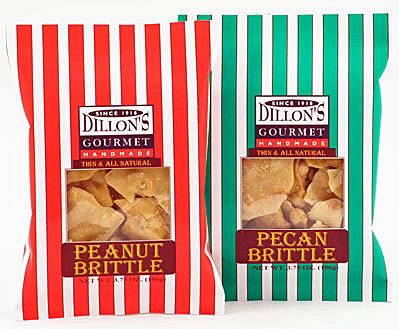 Pouches that have a seal down the back without having a seal on the sides are referred to as finseal pouches. This bag was produced for a high quality confectionary maker and where it acts as an overwrap to a tray that holds peanut and/or pecan brittle.
PAKPM4AO is a unique material that has very high oxygen barrier properties, FDA food contact approval and transparency. Many companies refer to the structure in the next bag #19 in the product selection kit as having a high oxygen barrier. Typically companies that refer to a nylon/polyethylene structure such as that in #19 as a "high barrier" are either not familiar with true barrier materials or do not have the capability of actually producing and/or printing flexible packaging with such capabilities. From an educational point of view, this pouch provides both an introduction to a unique pouch style, the finseal bag, as well as an introduction to a unique transparent high barrier film.
---
19.  
Product:
Printed 6.0" x 11.0" vacuum grade food pouch with ZipSeal™ and header.
Primary Application:
Wild Smoked Salmon Jerky.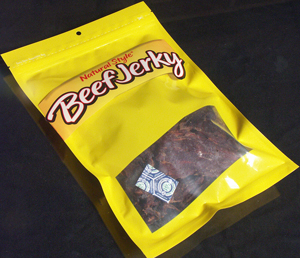 This pouch is an example of a ZipSeal™ pouch produced for a vacuum packed food product. This product is a very good oxygen barrier and is a 4.0 mil lamination of nylon to polyethylene. It is also an excellent example of technical assistance provided by IMPAK Corporation's product engineering personnel. Prior to this package, the product was packaged in a pouch without the ZipSeal™ feature. When moving from a non-recloseable pouch to a recloseable pouch, it is critical to work with a company that understands what combination of materials must be used in order to ensure that a product that was previously packaged in a vacuum sealer WITHOUT a ZipSeal™ feature will continue to hold the vacuum when the ZipSeal™ feature is added to the pouch.
Note that the tear notch has been positioned below the header or sealed area; some companies choose to put the tear notch in the center of the header but do not seal all of the graphic area so that the company or product name remains with the open pouch that the consumer uses.
Extended Graphic Header
A 'header' is the sealed area above the zipper which often has a hang hole to display vertically in retail stores. Extended headers with graphics are a way to add information and branding to a primarily clear package.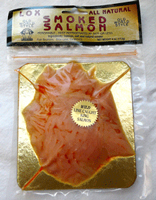 ---
20.  
Product:
Custom bag: shaped pouch for liquid - (3.0" x 4.625")
Primary Application:
Liquid package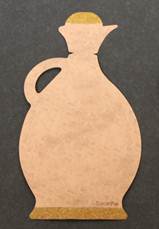 Bag #20 in the Product Selection Kit is an example of a shaped pouch. It must be examined closely to see that there is a "funnel" shape that has been formed by using a sealing die. This particular pouch was designed for an industrial adhesive product, although using our FDA approved PAKVF4C BLUE structure.
In this particular case, in order to avoid additional cost, the customer did not purchase a cutting die that would remove the sealed area and form a more obviously "shaped pouch." However, picture on left is an example of a shaped pouch, which can be produced to customer desire or specifications.
The white PAKVF4C pouch enclosed in the product selection kit is an inventoried item (P/N: LP03MFW04625) and can be obtained for review and evaluation.
Please note that the part number shown here is different from your print out. The correct part number is LP03MFW04625

Picture shown is NOT of enclosed sample.
---
21.  
Product:
Flat liquid pouch white with 6mm spout - 20ml (3.0" x 6.0")
Primary Application:
(See Photo) Liquid Packaging
6mm Spout with cap cord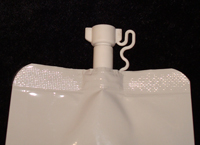 Pouch #21 uses our smallest available spout (see photo) that has an opening less than 0.25" (6mm) in diameter. The conventions of this pouch have been specifically designed to meet the allowable volume requirements of IATA bare line pasport regulations for carry on of liquid and lotion products.
This pouch is available via the IMPAK website and can be custom produced in both printed and unprinted formats in a wide variety of sizes. To request a sample ask for the 20 ml SpoutPAK™ P/N: SP20MLVF4W.