Uniquely Shaped Pouches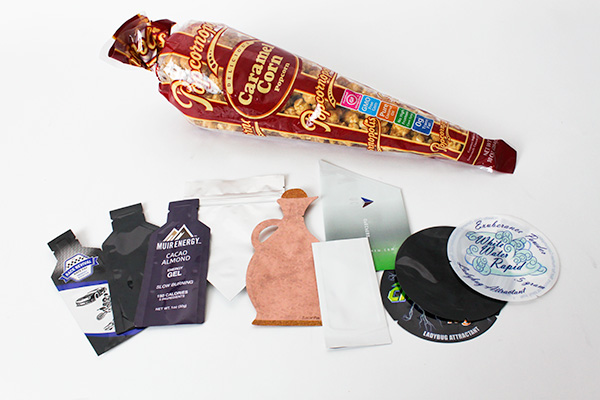 About Our Uniquely Shaped Packages
IMPAK is a leading innovator in the production of uniquely shaped bags.

Brands are turning to unique shapes for their packaging as a way to attract consumers, promote brand identity, and in many cases, to accomplish a function of the package better.

Liquid and gel squeeze packets, for example, offer a funneled tip for better precision compared to a square pouch; Cone shaped bags are now standard for popcorn and candy; And round mini bags offer a memorable package format for single-serving applications.

The above are just a few examples of the thousands of unique shaped bags IMPAK has produced for customers with specific packaging needs. See our list of ready-to-order unique bags below.

Applications for Uniquely Shaped Pouches
IMPAK offers all the unique sizes and shapes you see below, and has the ability to produce custom packages. *Custom print, size, color and material available by order. Learn More
Order stock items below, or contact us for custom orders.
Pouch Type
Industries & Applications
Dispenser Tip Pouch
Also known as: liquid pack, gel pack, gel pouch

Ideal for dispensing liquids, gels, pastes. Withstands high temperatures, (up to 250° F for 55 minutes) for hot fill
Energy Gel, Essential Oils, Spreads and Butters, Epoxy, Pastes, Glues, Aggressive Chemical Compounds (such as petroleum distillate)
Peelable Foil Patch
Also known as chevron pouches, foil to foil pouch

White & Silver Peel Pouch with Chevron seal. High barrier material; easy to open.
Pharmaceuticals, Sterile Tissue, Coated Products, Moisture Sensitive Devices
Cone Shaped Pouch
Also known as: popcorn bag, candy bag, frosting bag

2 Stock Sizes; Food-grade.
Food & Craft Applications: Popcorn, Candy, Cake Decorating, Guacamole, Snack Bags, Gift Bags, Decorative Packaging
Home Plate Pouch
Also known as pointed zipper bag and triangle pouch

Zipper pouch with pointed end. Tamper evident. Small "palm" size.
Food & Pharmaceuticals
Circle Pouch
Also known as round pouch

Round mini pouch with tear notch
*Small sample size / single use pouch
Pharmaceuticals, Supplements, Food & Candy
TuscanPak
Also known as Etruscan pouch, oil sample

Unique shaped pouch designed for olive oil samples
Olive Oil Sampler Pack
Breath Bag
Also known as collection bag, breath sample bag

Collection card/ bag for medical analysis
Medical: Hospitals, Labs, Clinics
*As used in Helicobacter pylori breath analysis system

[By custom order only; Contact us]
Flower Pouch
Also known as Stand Up Pouch Vase
Florists, Gift Shops
Dispenser Tip Pouch
Our dispenser tip pouches are designed to withstand high temperatures (up to 250°F for 55 minutes) for hot fill. They are also made to safely package aggressive chemical compounds such as petroleum distillate, epoxy, essential oils, etc.
Product
Size
Material
Color
100 - 900
1000 - 2900
3000 - 4900
5000+
Order
DTP02PCA055
Silver Dispenser-Tip Pouch - 5000/case
2.0" x 5.5"
PAKVF4PCA
5.0 mil
Silver
$0.255/ea
$0.13/ea
$0.096/ea
$0.081/ea
35MDTP0225055
Silver Dispenser-Tip Pouch with round corners - 5000/case
2.25" x 5.5"
PAKVF3.5M
3.5 mil
Silver
$0.255/ea
$0.13/ea
$0.096/ea
$0.081/ea
35MDTP0225055BLK
Black Dispenser-Tip Pouch with round corners - 5000/case
2.25" x 5.5"
PAKVF3.5M
3.5 mil
Black
$0.255/ea
$0.13/ea
$0.096/ea
$0.081/ea
Learn how IMPAK can help with packages that develop with a brand's changing needs: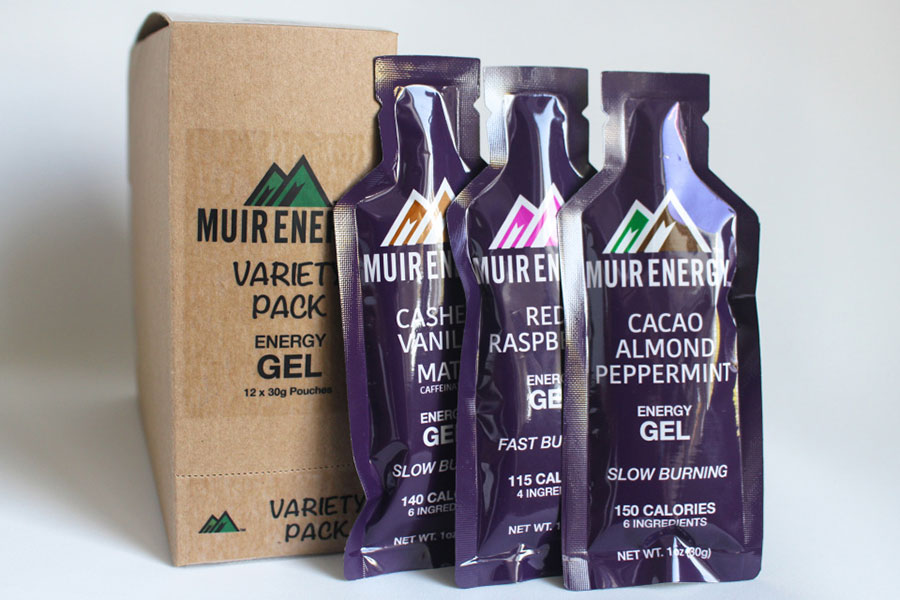 Peelable MiniPouches


Peelable pouches insure that contents stay contaminate-free. Chevron pouches, sometimes called foil to foil pouches, are used to package single-use items, often used in medical applications. The high barrier material is ideal for packaging sensitive materials because it offers protection from moisture, light, gases and other contaminates. The high quality film is also resistant to tears and punctures.
Product
Size
100 Bags
1 Case
2 - 4 Cases
5 - 9 Cases
10 - 19 Cases
20 + Cases
Order
02PL04125W
2.0" x 4.125" O.D.
$32.00

$275.80
$267.50
$239.25
$198.40
$175.80
Description: Peelable Pouch (1,000/Case) - Structure:
Front: 80Gram coated paper/.0065mmAL/.04mmPE - White
Back: .0125mm PET/.0065mm AL/.06mm peelable PE - Silver
Cone-Shaped Pouches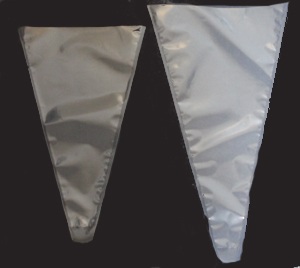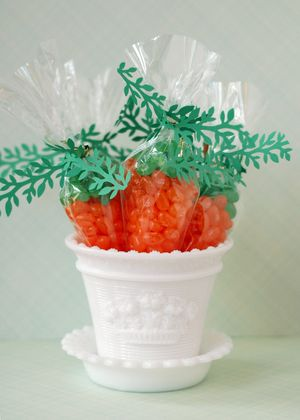 Introducing the new food-grade Cone-Shaped pouch! Coming in small and medium sizes, these bags are perfect for cake decorating, gift bags, popcorn, guacamole, snack bags and many more applications.
| Product | Size | Description | Case Qty | Trial Pack | 1 Case | 2-4 Cases | 5-9 Cases | 10+ Cases | Order |
| --- | --- | --- | --- | --- | --- | --- | --- | --- | --- |
| 095CN17125TN | 9.5" x 17.125" | Transparent cone-shaped pouch with tear notch 3.5" from top | 1,000 | 100 bags @ $39.60 | $238.60 | $217.80 | $178.20 | $158.40 | |
| TR112025TN | 11" x 20.25" | Transparent cone-shaped pouch with tear notch 4.75" from top | 500 | 50 bags @ $45.00 | $302.50 | $276.10 | $248.00 | $221.10 | |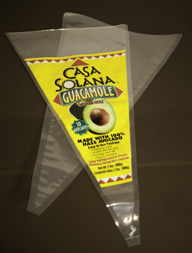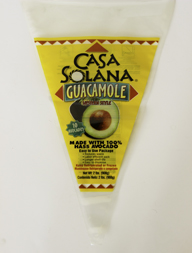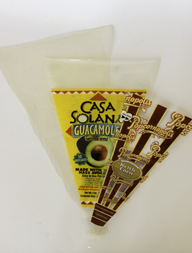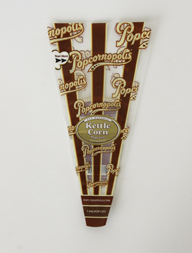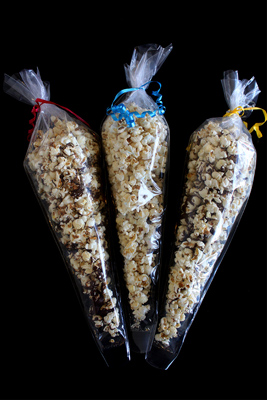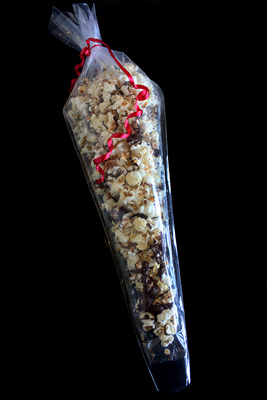 Home Plate Pouches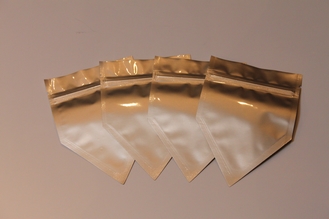 A ZipSeal pouch with a tamper evident sealed top and tear notch. The bottom of the bag has been sealed in a triangle shape making the overall shape of the bag look like home plate.
Product
Size
Material
Color
1 Case
2 - 4 Cases
5 + Cases
Order
TR04MFD055OZETN
Home Plate Pouch - 1000/case
4.0" wide at the open end by
5.5" from flat end to point
PAKVF4D
4.5 mil
Silver
$198.40/Case
$162.40/Case
$128.40/Case
Circle Pouch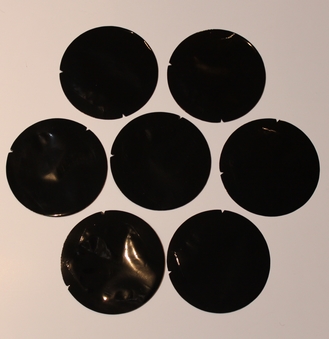 A circular pouch for single-serve / single-dose applications. This circular pouch has a tear notch that makes it easy to open. Great for small items that will be used in one sitting such as candy and medicine.
Product
Size
Material
Color
1 Case
2 - 4 Cases
5 + Cases
Order
35MB0404CRL
Black Circle Pouch
with Tear Notch - 1000/case
4.0"
Diameter
PAKVF3.5M
3.5 mil
Black
$130.20/Case
$110.60/Case
$91.50/Case
TuscanPak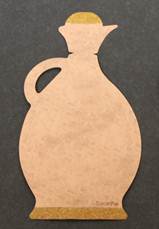 A single serve, or sample sized pouch for olive oil. Shaped like a vase and made from food-grade material that will protect flavor. A tear notch at the top makes it easy to peel open and use.
Product
Size
Material
Color
1 Case
2 - 4 Cases
5 + Cases
Order
DT5ML030575TSNPKR1
TuscanPak - 1000/case
3.0" x 5.75"
See Image
$162.20/Case
$127.50/Case
$91.70/Case
Don't see what you're looking for?
We provide a range of options from color, size, shape, to value-added features such as zippers, spouts and caps. Fill out a Custom Order Inquiry form and tell us what you need.
Inventoried Items vs. Custom Orders
Stock / Inventoried
The fastest solution. We offer "inventoried" stock items in popular shapes and sizes which allow customers to test a product with their material, and quickly package items. Sticker labels can add branding and an item can go out into the market.
Custom
The tailor-made solution. We have the capability to produce custom sizes, shapes and colors to best represent your brand; From orders in custom size and colors, to full color custom print options.
Wondering what option best suits your needs? Contact Our Team. Contact Form Here Phone: (310) 715-6600 | Email: sales@sorbentsystems.com