Did you ever drop your mobile phone or your iPod in water accidentally?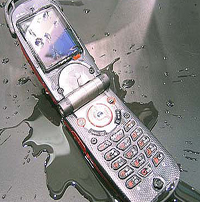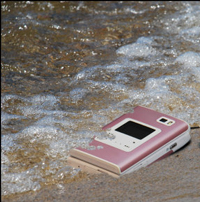 Did you know? ...........
The "sorbent" in the IMPAK Corporation's chosen domain name - sorbentsystems.com/ is derived from our expertise in technical solutions to moisture and oxygen problems in pharmaceutical, electronic and other products?
IMPAK has a 16 year history of developing specific solutions via technical sorbent products to remove oxygen, prevent moisture damage and other more challenging applications.
Desiccant to the rescue of an iPod®
Sometimes we learn things from our customers, the photograph below shows an iPod owned by the daughter of a key customer in the electronics industry.
This iPod made an unfortunate perilous journey through the washing machine while residing in the pocket of the young lady's blue jeans. It was our own customer that showed us that using our 25 pack of 1 ounce drying packets, that within three days his self created "electronics hospital" had returned the iPod to working condition.

The customer wrote to us and actually admitted that his plan was to dry out the product and go to the Apple store hoping to tell them that he "had no idea why the iPod no longer worked" and hoped to obtain a replacement unit. His daughter was happily amazed to discover that after a little more than two days in our package of desiccant the product turned on and was functional.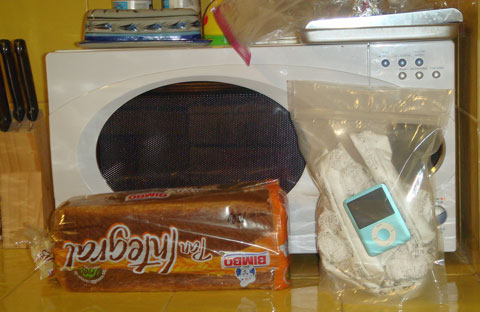 iPod® is a registered trademark of Apple Computer Corporation.
NOTE: IMPAK Engineering personnel have been familiar with this application for more than a decade.

They have been recommending a different desiccant product - a 1 gallon can of molecular sieve to solve similar problems in 35mm SLR cameras, GPS Devices, watches, cellular phones, MP3 Players, even entire laptops.
---
Did your iPod suffer water damage?
P/N: 205050PK01
Description:
This is the product shown in the picture above with the blue iPod
P/N 205050PK01
1 oz
SIZE: 1.5" x 6"
Packets per bag: 50
---
P/N: 641MS05
Description:
This is the product most recommended by our engineers for severe water damage.

5 lb. can non-indicating molecular sieve
P/N : 641MS05
Price: $ 89.50
5 lb. can indicating molecular sieve
P/N : 641IMS05
Price: $ 39.50
---
The results described above represent the actual results from a specific situation. Although there have been numerous cases of success in utilizing these sorbent systems as a solution to moisture damage, each case is unique and IMPAK makes no implied or express statement that the technology would be appropriate for any specific application.