KeepFresh Home Vacuum Sealer Testimonials
Oh thank you so much for your help, this will give our treats the right look I think. Really, I do have to say also that the KeepFresh Home Vacuum Sealer. You are selling the 99 dollar one, we have sealed no less than 6000 bags after looking at our invoices for labels.
Please let people know it is a very durable, rather bulletproof machine!
Best in health,
Melissa M. Pavlica
Sweet Bay Hol-Sale, Inc.
---
This is a letter from Alaska fish and game warden Mr. Mark Stopha:

From: Mark Stopha
To: 'sales -- sorbent systems'
Sent: Monday, June 19, 2000 11:39 AM
Subject: RESPONSE
I was skeptical when I took the sealer out of the box. It seemed pretty fragile, and too lightweight. However, the looks were deceiving. Once I saw how well it worked, the light weight of the machine was nice.
It took a few practice packages to get the system down, but once I did, everything went smoothly. I did probaby 25-50 packages in each of 2 sessions, and the system worked without fail, and never overheated. The machine was a bit more difficult at first to work than a food saver machine, since you have to work the on-off switch each time (on the foodsaver, it's an automatic on-off when you depress the bar). However, this was the only drawback. With your machine, you can continue to draw the vacuum, whereas on a foodsaver, once it senses an adequate vacuum, it automatically seals the bag, even if the vacuum is not complete. Furthermore, the bags you sent me seemed superior to the foodsaver bags. Only one bag did not seal and I could not find out why. The bags were tough and did not puncture from salmon bones sticking out of the skin, which is a common problem with foodsaver bags. It also was easy to clean.
The light weight of the machine, the continued performance during a long session of packaging, the ease of cleaning the filter, and the ability to use a wide variety of cheaper bags all made the product superior to the foodsaver.
---
In October 2000, we began giving $50.00 to any user of the KF108 that provided us with a unique and creative use for the KeepFresh Home Vacuum Sealer.
This was the first winner:
Dear SorbentSystems,
My name is Theresa Scaramella. I bought a KeepFresh Home Vacuum Sealer for my sister with a large family as a birthday present on August 6th in the year of our good Lord 2000. With six children she was always buying in bulk and freezing meat, casseroles, just about anything that would give her a leg up on the situation. Well, it worked so well for her that I bought one and one day when her two oldest boys were staying for a sleepover, I hit on a great idea.
That night I took some of the long skinny bags I had ordered and using orange juice and raspberry juice I made all natural freezer pops!!!
The next day around noon when the boys were outside throwing a football, I brought out some of Auntie T's homemade freezer pops... I have never been more popular! I even made a freezerpop for me from my favorite ... Baileys's Irish cream!
Thank you,
Theresa Scaramella
Arcadia,CA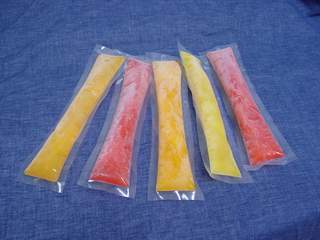 Order freezer pops bags.
---
I started making Beef Jerky in 1975 for my family. After several tries I came up with several unique recipes. To this day I still use the same recipes that I came up with in 1975. About 5 years ago I made some Beef Jerky and took it to work. Some of the people that I work with tried it. The next thing that I know they were asking me to sell them some Beef jerky.
Since then I started to look for ways to keep the shelf life longer. I looked into adding a Fresh Pak and to Vacuum Pak the product. I purchased a KeepFresh Home Vacuum Sealer. Since then I have sealed over 3,000 bags with sealer and it is still going strong. So is the Beef Jerky. To me this is the best vacuum sealer on the market today.
Thank you,
John A Bealer
Lakewood,CO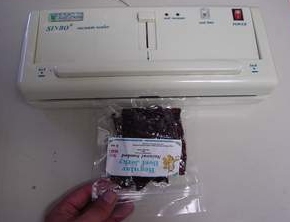 ---
Need a 220V/240V machine? - read here:
This email came from woman in Australia. She sent this email when we asked her - "how is the 220V unit working for you?"
I chased around for about a month to try and find out how many watts the machine was. My husband asked at his technical college and they said it was about 20 watts.
I went to another store to buy the converter, and he said, "Since it is 220volts, it is close enough to Australia's 240volts that it doesn't need a special converter. You just need one that adapts the different plugs." It cost me A$13.00 (U$6.00). The special converters start at $75.00.
Anyway, I went home and started using the machine straight away and it is fantastic.
So, if you have any more orders from Australia, they just need the 220volt machine and a plug converter from Tandy.
Thank you for all your assistance. It was much appreciated.
Erin Black