Understanding Modern Printing Processes that require the use of etched rotogravure cylinders and photopolymer printing plates
Printing cylinders for the Rotogravure Printing Process:
This process begins with a cylinder base. The converter or printer purchases the steel base from a specialized manufacturer. The cost of this varies depending upon the required circumference of the cylinder. Typically this item alone costs a minimum of $1,500.00 up to $1,800.00. Upon receiving artwork, the image is etched color by color into the copper coating that the specialized manufacturer applied to the steel base. In modern flexible packaging production, it is the cost for this etching process that the customer actually pays for. Recent developments in rotogravure technology have dramatically reduced this cost to between $350.00 & $450.00 per color by etching a sleeve that is attached to a cylinder base. This sleeve will have specifically machined openings, slots and apertures to allow the sleeve to conform to an interchangeable steel base.
There are customers who want to own the actual capital component and they continue to use the steel base with the copper coating which is etched to produce the desired image. These cylinders that were once the only way to produce rotogravure images are between $1,700.00 & $2,300.00 per color. Any company making this investment typically requires production of 2,000,000 to 5,000,000 images per order.
Every customer pays for the engraving of either the complete cylinder or individual sleeve at the time of the first print run. Cylinder sleeves are not transferable and simply stated belong to the printer.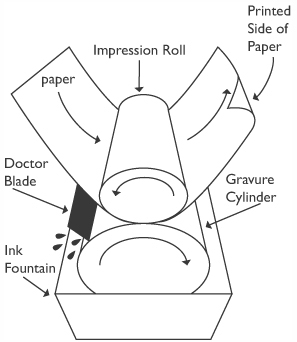 Diagram of a typical Rotogravure Cylinder in which the image is etched directly on to the copper coating.
---
Rubber/Photopolymer Plates for Flexographic Printing:
This process involves molding rubber plates and then mounting them to a steel cylinder of a specific circumference on the printing press. The cost for flexographic printing plates is generally in the $300.00 to $ 500.00 per color range depending upon the size of the print area. Rubber (photopolymer) plates reproduce an inferior print quality compared to Rotogravure and do not have the same durability.
Generally, these types of plates will begin to deteriorate significantly after the second printing. Each successive printing further erodes the print quality. Often by the third or fourth print run, the plates must be replaced at the expense of the customer. These plates do belong to the customer but often cannot be used by another printing company due to different plate requirements, markings and orifices that have been made to the plates in order to fit a manufacturer's specific equipment. In addition, most printers will not accept them due to existing signs of wear. In contrast, rotogravure cylinders have a much longer service life, are significantly less expensive to re-etch and produce photo quality print images.