We ship Worldwide
IMPAK Corporation ships, supports and services its products on a worldwide basis.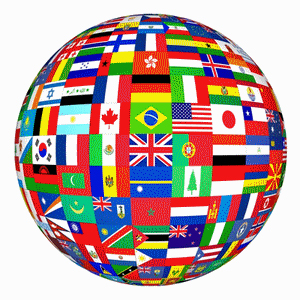 A few countries are shipped to, some regularly, that you may want to review the information below.
If you are in the process of placing your first order with our company and using our online order system for an international order, please understand the following:
The first step is to place the order online and enter your payment information through our SECURE ORDER FORM.
The next step would be a formal response from Customer Service Personnel at IMPAK providing you with shipping options and the respective cost of those options. Options include: Federal Express International Economy, United States Postal Service and other choices.
No charges or requests for payment will be made against your credit card until you have agreed to the shipping cost and chosen specific method of transport.
Note: Orders entered without the exact billing and shipping information, may be subject to an additional charge.
The flags above represent just a few of the countries to which we ship on a regular basis.
If you are placing an online order and are outside of the United States, there is no reason to contact the company via email and request shipping cost. In fact doing so may cause your email to become lost in the general inquiries that are divided among the Sales and Customer Service Department.
The best approach is to place the order through our SECURE ORDER FORM.
We will never ship an overseas order until the customer has approved both the shipping cost and the method of shipping since sea freight or even United States Postal Service are options in addition to rapid service International carriers like FedEx, DHL and UPS. We have a good deal of expertise in choosing both sea freight and air freight options.
International orders are subject to a $35.00 wire transfer fee.
Unfortunately due to the regulations of the carriers and the financial responsibility that can be incurred by the shipper, we are unable to ship internationally on a customer account until there has been a minimum of a 1 yr relationship.