Preparedness Products
Perhaps you noticed the URL of this page is "y2k". Originally this page was created to address some of the concerns surrounding the Y2K scare in 2000 - Learn More.

History has shown us that the world we live in is anything but predictable. Many prudent individuals have endeavored to maintain a state of preparedness for the possibility of a disaster, and while Y2K is but a glimmer of the past, one never know what the future holds. We have decided to keep the page URL, in the spirit of preparedness and safety, and use it to highlight some of our more popular preparedness products.


Oxygen Absorbers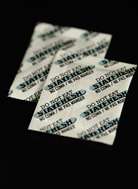 Oxygen Absorbers, when appropriately-sized and added to a package with high moisture/oxygen barrier properties and an airtight seal will effectively reduce the content of oxygen in the surrounding atmosphere to approximately 0.01%. In order to determine the appropriate size Oxygen Absorber for a particular package, two key elements must be considered: headspace and voidspace.
Headspace
As in the illustration to the right, a #10 can has a volume of 3,980 cc. If you fill this can to 90% of its volume, you will have 398 cubic centimeters of headspace.
Because air is 21.0% oxygen, this headspace will contain 81.6 cubic centimeters of oxygen (0.21 x 398 = 81.6).
Voidspace
If a five-gallon bucket were filled with children's marbles, the spaces in between the marbles (void spaces and head space) would represent 38% of the volume of the five-gallon pail ( 0.38 x 18,942 cc = 7,197.96 cc residual air volume ). Of this number, 21.0% is oxygen.
(x) cc Headspace + (x) cc Voidspace = Residual Air Volume
In order to determine how much oxygen absorbing capacity you require, we must determine the residual air volume. Here is a fairly simple way of determining this quantity, using weight and volume measurements.
Determine the volume of your container. Use the illustration above for common container types. Or,

use this formula if you do not know the volume and your container is a regular shape.
use this formula if you do not know the volume and your container is an irregular shape.

Weigh the food product and convert this weight to grams. (Refer to our conversion table.) To be completely accurate, make sure you subtract the weight of the container to get the net weight of the food.
Subtract the cubic centimeter volume found in Step 1 above from the gram weight found in Step 2 above to determine the headspace and voidspace, or residual air volume. (This will be a measurement in cubic centimeters)
Finally, as there is approximately 21.0% oxygen in air, multiply the residual air volume found in Step 3 above by .21 to get the cubic centimeter volume of oxygen in your product container.
OXYGEN ABSORBERS (300 cc and 750 cc are the most commonly used sizes)
Are you packing food in bell jars? 50 cc absorbers are perfect for this application.
Do your food products need desiccants?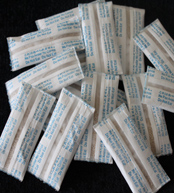 When used in conjunction with either a high oxygen/moisture barrier bag (MylarFoil bag) or a sealed pail, desiccants offer protection against putrification, rancidity and the growth of mildew, mold or fungi.
IMPORTANT: The desiccant packets must be placed at the bottom of the container or in the middle of the food products. The desiccant bags must not be close to the oxygen absorbers. Desiccants will negatively affect the performance of the oxygen absorber when close by. We supply desiccant bags made from Tyvek®. Tyvek® is a material acceptable for food product contact. We have 1 ounce and 5.5 gram packets available. The 1 ounce packets are packaged 10 and 50 per bag. For those individuals and organizations for which humidity is a concern, we recommend two 1 ounce packets per 5 or 6 gallon pail, or two per large barrier bag. For products that are already extremely dry and for which concern is minimal, you may use one packet.
Desiccant Bags
| | | |
| --- | --- | --- |
| P/N | QUANTITY | PRICE |
| 016WP100CU | 5.5 gm/100 per bag | $13.50 per bag |
| 205050PK01 | 1 oz each/50 per bag | $13.50 per bag |
For the smaller barrier bags (11.75" x 15") we recommend two of the 5.5 gram packets. Each packet is marked "
1
/
6
" on the outside. We also recommend using one of these in cans of dehydrated foods or moisture sensitive situations.
MylarFoil Barrier Bags
In the food processing area, these bags are known as oxygen/moisture barrier bags. Our MylarFoil bags are 5-layer structures of MylarFoil/polyethylene /00035 aluminum foil adhesive/linear low-density polyethylene:
P/N

SIZE

PRICE

06MFW06

6.0"x6.0"

50 Bags for $24.25

CTN35M0810FC


This item is also available in PALLET QUANTITIES

8.0"x10.0"

100 Bags for $21.50

5G195MFS29

19.5" x 29.0"

100 bags @ $129.00

26MFS36

26.0" x 36.0"

10 bags for $31.50
How do I know if I have the right type of MylarFoil bags?
This is an extremely good question. The MylarFoil bags that are used for long-term food storage were originally designed for exporting Macadamia nuts in bulk. This bag is 4.5 mils thick and appears to look like aluminum foil. Although the MylarFoil layer is transparent, long-term MylarFoil food storage bags are NEVER transparent. Another type of MylarFoil that many consumers are familiar is the "Mylar balloons" sold in many supermarkets for birthdays and other occasions. The industrial name for Mylar balloon material is metallized polyester. This is product mostly cosmetic and has minimal oxygen barrier properties.
What is the worst that can happen if I do not use a MylarFoil bag inside my pail?
Unlike a # 10 can or MylarFoil bag, the plastic pails used for food storage do not not possess high oxygen barrier properties, so there is a slow transmission of oxygen through the polyethylene walls of the container over time. Perhaps the most common complaint we hear about these pails is the frequent problems with insect infestation. Nothing will eliminate this as certainly as an oxygen barrier bag and an oxygen absorber. Gas flushing will always leave a minimum of 2-5% oxygen. Lastly, since the oxygen absorber will actually remove 20.5 % of the air that is within the container, it is possible for the absorber to pull in the wall of the container (the vacuum effect) to such a degree that the lid separates from the pail.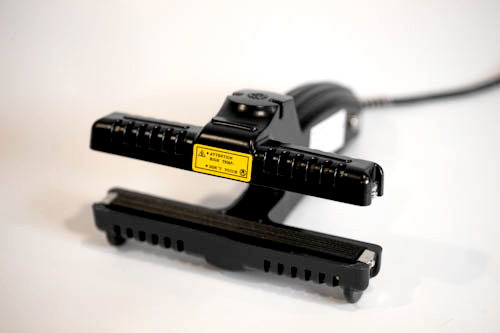 Heat sealers are critical to provide a proper barrier to oxygen for barrier bags. We recommend the 6-inch "constant heat" Clam type hot jaw Unit. This unit is available for $98.50 plus shipping. The jaws are sufficient to close any type of heat sealable multi-layer structure. They can be used to seal the standard 20" x 30" barrier bag used in the five-gallon pails.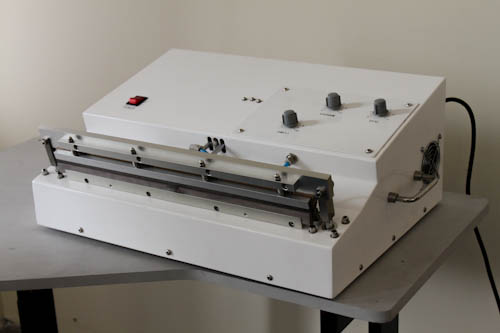 IMPAK offers a large selection of high quality vacuum sealers; from small vacuum sealers for sous vide applications at home, all the way up to industrial grade vacuum sealers for the medical industry, food packaging plants, electronics, and industrial products packaging.
For distributor Pricing call us at 310-715-6600.
IMPORTANT: AFTER YOU HAVE OPENED THE OXYGEN ABSORBERS
Oxygen absorbers begin working within minutes of the package being opened. When packaging food for long-term storage, you should use the entire contents of one sealed vacuum packet bag within 30 to 60 minutes. If you know that you will be unable to use the entire quantity, set those packets aside in a small, clean, and dry glass jar with a secure screw-top lid. (A jam or pickle jar will work fine.)
We also provide a special "bag clip" (unlike any chip clip you have ever seen) that will keep the opened oxygen absorbers pouch secure for a minimum of three months. The clips are P/N BGCLP01 and are $5.95 each.
How much oxygen absorbent capacity do you need for standard containers?
We recommend 1500 cc's of oxygen absorbing capacity for 5 and 6 gallon pails. Thus, you could use 5 individual 300 cc packets, 3 individual 500 cc packets, 2 individual 750 cc packets, or 1 individual 1500 cc packet.
For a one gallon pail, we recommend using one 300 cc oxygen absorber. You can
purchase
these in bags of 50 for $12.50. For smaller (approximately 1 Quart) containers, such as Mason jars, we offer 50 cc oxygen absorbers, available for
purchase
in bags of 200 for $19.50.
PLEASE NOTE: If you contact us by
e-mail
please provide a complete address (
not
a P.O. Box), as well as a telephone number. We are unable to respond emails that do not have this information.