Mil-Spec Pouches
Quick Links

Are you one of the select companies that produce items to the rigid specifications that REQUIRE* mil-spec packaging?

*ACTUAL certification to military specifications, not "conforms to" or "similar" or "commercial" version.

We can be COMPETITIVE.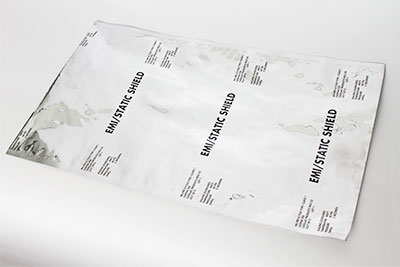 Size/Part Number
Qty/case
50 bags
1-2 cases
3+ cases
12" x 22"
81705BT1C11222ID
EMI/Static Shield Mylar Bag
150
Contact us for pricing
Description:

MIL-PRF-81705E TYPE 1 CLASS 1; Silver; 2 side seal with fold over bottom; 150/case
Example A: Mil B-BIH Type I Class I
18 1/2" x 22 1/4" O.D.
17 5/8" x 21 3/4" I.D.
Barrier Pouch


Example B: Mil PRF 22191E Type II Class
9.0" x 19¾" I.D.

Please contact us for quotations on pouches produced from any of the structures listed below.

We can also provide heat sealers suitable for these military specification materials.
MAKE YOUR OWN BAGS
If you have wide varieties of parts that are of different sizes and you are utilizing the combination of our hot jaw or our advanced mobile hand held sealing units, try using this 200yd material. The material works great in conjunction with the mobile hand held sealers.

Made in the USA and used extensively by the US Military.
With the purchase of this material, you can purchase the Hot Jaw for $99.00
Image
Part Number
Material
Pricing
MS360-36Y200
MIL-B-131
1 Roll: $298.50
2-4: $277.50
5-9: $256.50
10+: $245.80


ROLL STOCK SHEETING

PRODUCT
WT PER ROLL
(in lbs.)
SIZE
MIL-B-131 CL.1
48
36" x 200YDS
64
48" x 200YDS
MIL-B-131 CL.2
54
36" x 200YDS
72
48" x 200YDS
MIL-B-131 CL.3 (SCRIM)
72
36" x 200YDS
96
48" x 200YDS
MIL-B-131 CL.1 TYVEK
72
36" x 200YDS
96
48" x 200YDS
MIL-B-81705B TY.1
72
36" x 200YDS
96
48" x 200YDS
MIL-B-81705C TY.1
37
36" x 200YDS
49
48" x 200YDS
MIL-B-121 GRA TY.1 CL.1
58
36" x 200YDS
77
48" x 200YDS
MIL-B-121 GRA TY.2 CL.1
45
36" x 200YDS
60
48" x 200YDS
MIL-B-22191 TY.1
50
36" x 200YDS
MIL-B-22191 TY.2
37
36" x 200YDS
MIL-B-121 GR.A TY.2 CL.2
45
36" x 200YDS
60
48" x 200YDS