The need for water storage receptacles is as old as humanity itself, providing water for drinking, irrigation, agriculture, fire suppression, farming, both for plants and livestock, chemical manufacturing, food preparation and many other applications.

Over the years, many of our customers have asked for and sought out viable solutions to water storage needs.

One customer wrote:
"When Hurricane Ike hit Houston in September of 2008, some of the city was without water; the rest of the city's water supply was contaminated and undrinkable. POD (Point of Distribution) centers were setup throughout the city to provide food and water to residents, but there were long waiting lines and many people were unable to get there, due to the transit system being down and flooding in some areas."

We have heard you and in response to those inquiries and requests, IMPAK is happy to introduce our latest innovation in flexible packaging: The Agua-Tainer!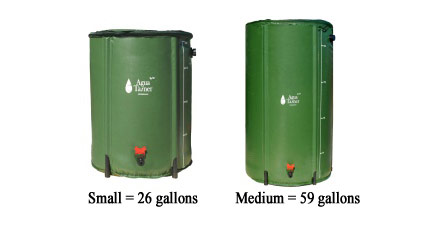 This unique water storage container is manufactured from heavy duty PVC and is designed to store and protect water for a variety of applications. With natural disasters and emergencies occurring more frequently than ever before, the need for preparation cannot be understated.  That is what makes the Agua-Tainer such a vital component of any preparation strategy.

P/N H2B26G98L
26 Gallon Agua-Tainer
Features include:


5 Support Poles
1 Air Vent
1 Inlet Valve (d: 0.85")
1 Outlet Valve (d: 0.60")


Dimensions:


Diameter: 19.7"
Height: 19.7"
Box Size: 5" x 19" x 7.25"
Box Weight: 3.8 lbs


Price: 1 @ $24.60 ea / 2 + @ $21.60 ea

P/N H2B59G225L
59 Gallon Agua-Tainer
Features include:


6 Support Poles
1 Air Vent
1 Inlet Valve (d: 0.85")
1 Outlet Valve (d: 0.60")


Dimensions:


Diameter: 24.0"
Height: 31.5"
Box Size: 5.25" x 30.5" x 7.0"
Box Weight: 6.65 lbs


Price: 1 @ $33.80 ea / 2 + @ $30.80 ea