Sizes from 3.5" x 5" x 1.0 " to 11" x 16.2" x 5.75"
Available in Vista, clear, black, blue, gold, silver and white
Available with re-sealable ZipSeal closures, release valves, and pour spouts
Available in materials ranging from foil, laminated films, and custom blended barrier films
P/N: AVGR02Z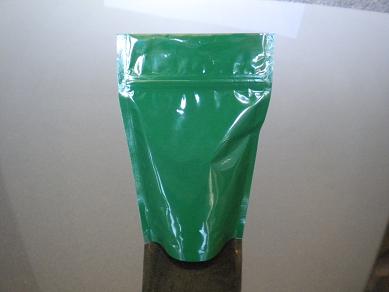 Stand Up Pouches or SUP's (Stand Up Pouches) have altered the face of consumer packaging for such products as coffee, fruit juice, and soup mixes, yet they have a definite use for industrial applications as well. Using materials such as metalized films, foil laminations, and custom blended barrier films, our stand up pouches are constructed to not only be appealing but functional. We offer re-sealable ZipSeal closures; release valves, ultra clear films, and even pour spouts. Stand up pouches give retailers new opportunities to display products and maximize shelf space and manufacturers reduce their packaging costs by eliminating the "old style" bag-in-a-box method of packaging. We offer both Rotogravure and Flexographic printing capabilities depending on the quantity of stand up pouches needed and the particular printing scheme required by our clients. The wide face of the stand-up pouch (SUP) is perfect for an elaborate label or high quality print design.



Stand up pouches have three fundamental measurements:
WIDTH
HEIGHT - measured from the outside bottom edge to the very top of the bag
BOTTOM GUSSETT - two times the dimension from the outside bottom edge of the bag to the maximum depth of the internal fold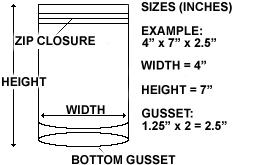 In the illustration to the left, the bottom gusset dimension is 1.25". Therefore the bottom gusset is 2.5". Some companies, including IMPAK Corporation, will occasionally refer to a bottom gusset as (1.25" x 2) instead of 2.5" in an attempt to make the bottom gusset dimension clearer to the user. Establishing the bottom gusset size is very important when determining the cost and overall dimension of any stand up pouch.

Of course, the most important consideration in the production of any flexible packaging is the raw material. Several examples of our readily available materials on the production floor can be found on our TECHNOLOGY page.



There are three fundamental types of stand pouches:


| ROUND BOTTOM GUSSET | K-SEAL BOTTOM | PLOW BOTTOM |
| --- | --- | --- |
| Round bottom gusset stand pouches are one of the most common pouches in existence. In a round bottom gusset stand pouch, it is the welded edge of the material that provides the support that hold ups the package and allows it to "stand" in position. Almost all of the pouches on our list of stock available to ship immediately stand up pouches are round bottom gusset. A careful examination of our stock pouch list will reveal that there are specific sizes that begin with a letter – A, B, C and D. A through D are all round bottom gusset pouches. | When a bag reaches a certain size it is not possible for it hold up the weight of the product while resting on the sealed edge of the material. In this case, the type of bottom that is created is called a K-Seal. On our stock inventory page both of the G size bags (with and without ZipSeal) are K-Seal bottom bags. The largest stand up ZipSeal pouch made, LPTG01, is also a K-Seal bottom. | The Plow Bottom is also called a corner seal. This style of pouch has grown rapidly in popularity especially among food product packagers and granular items like sugar and bath salts. In this case, the material that is in the package sits directly on the shelf. Pre-made plow bottom pouches replicate the appearance of pouches produced on automatic form fill and seal machinery, perhaps another reason for why they are gaining in popularity. |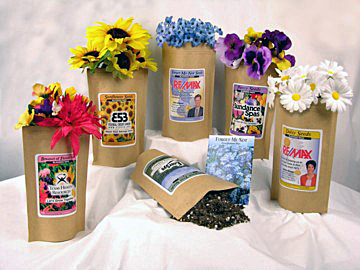 Ortho Bug-Geta Snail & Slug Killer- 4lb.
The Scotts Company
By moving from a folding carton to a stand-up pouch with a spout, The Scotts Company was able to move the Ortho Bug-Geta Snail & Slug Killer products from inside the store to the outdoor garden centers as well as providing some added benefits:
improves shelf appeal
provides moisture protection
the spout insert provides a more accurate application of granular product
physical packaging needs greatly reduced
space efficiency of flexible packaging reduces trucking and storage needs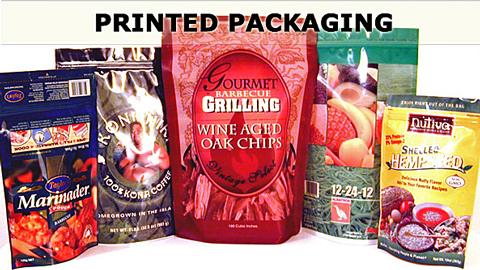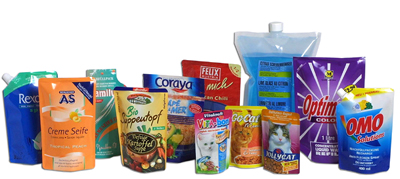 AS LOW AS 8,000 MINIMUM ORDER FOR PRINTED STAND UP POUCHES
These pouches are produced to customer specifications with a choice of sizes, colors, with and without zippers. For more information provide the
size
,
application
and
quantity required
to:
sales@sorbentsystems.com
How to choose and evaluate the appropriate package for your product:
Introducing the IMPAK Corporation Package Design Guide, a written document that works in conjunction with the Product Selection Kit containing 29 different flexible packages and a review of their structures, styles and applications; together they are an invaluable tool for any organization or individual engaged in evaluating and selecting the appropriate package for a product.